= 900, mobileScrolled = window.scrollY >= 50" :class="mobileMenuOpen ? 'overflow-hidden' : ''">

Active Tameside has been shortlisted for four Pride of Tameside Business Awards:
Tourism and Leisure Business of the Year
Health and Social Care Business of the Year
Catering Business of the Year
Corporate Social Responsibility Award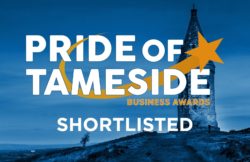 The Pride of Tameside Business Awards celebrate the outstanding work of businesses from different sectors and inspirational individuals from across the region. There are 21 categories in total, including awards for catering, health, digital, tourism and e-commerce businesses. There are also awards for Rising Star of the Year, Family Business, New Business and Entrepreneur of the Year.
Active Tameside is leading in the transformation of conventional support services, leisure opportunities and physical activity into a vehicle to address the inactivity in Tameside, through co-production and engagement with neighbourhood and stakeholder partners, to meet the needs of all Tameside residents through their life course.
The awards will be judged by an esteemed panel of industry leaders and experts, following the pre-scoring and shortlisting, who will discuss and evaluate the entries in detail, to decide who the winners will be.
The winners will be revealed at the awards ceremony, which will take place on Thursday 25th October 2018 at Dukinfield Town Hall.

Your card, your choice. Choice is a great thing in life, so you've come to the right place. With so many ways to spend your Active Choice Card you'll never be stuck for fun family times, fitness and wellbeing times, Fuel cafes catch-up times and for those activity must-haves (forgotten the goggles, stylish swimwear) you can also spend it at our in-centre stores.