= 900, mobileScrolled = window.scrollY >= 50" :class="mobileMenuOpen ? 'overflow-hidden' : ''">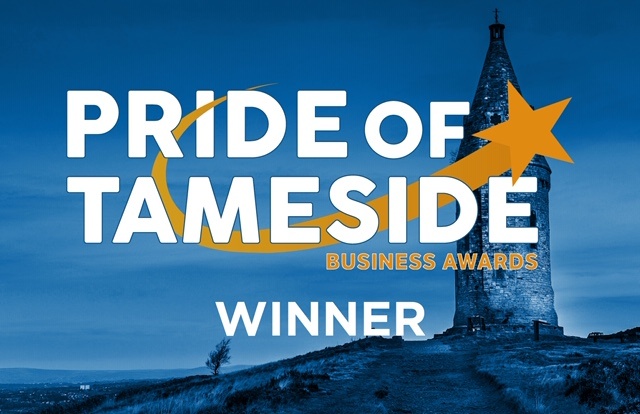 Active Tameside were awarded 'Tourism and Leisure Business of the Year' at the Pride of Tameside Business Awards, which took place on 25th October. The Awards celebrate the outstanding work of businesses from different sectors and inspirational individuals from across the region.
A total of 21 business from Tameside were awarded at the ceremony, including catering, health, digital, tourism and e-commerce businesses. The awards were judged by an esteemed panel of industry leaders and experts.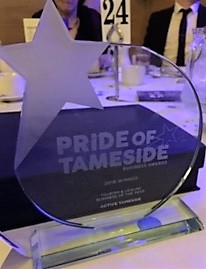 Reg Patel, Deputy CEO of Active Tameside, said: "It was an honour to win the Pride of Tameside Business Award for 2018, as the Tourism and Leisure Business of the Year. We are really proud to have been shortlisted in four separate categories across the board, given the quality and quantity of the other nominees. We were pipped to the top spot in other categories by superb businesses.
"To receive this accolade and praise from businesses across the community felt truly special. It was a great night and networking time, showcasing the best that Tameside has to offer, which is significant."
Active Tameside is leading in the transformation of conventional support services, leisure opportunities and physical activity into a vehicle to address the inactivity in Tameside, through co-production and engagement with neighbourhood and stakeholder partners, to meet the needs of all Tameside residents through their life course.
The accolade comes shortly after Active Tameside won the ukactive 'Outstanding Organisation of the Year' award earlier this year.

Your card, your choice. Choice is a great thing in life, so you've come to the right place. With so many ways to spend your Active Choice Card you'll never be stuck for fun family times, fitness and wellbeing times, Fuel cafes catch-up times and for those activity must-haves (forgotten the goggles, stylish swimwear) you can also spend it at our in-centre stores.