Swim, Slide and Waves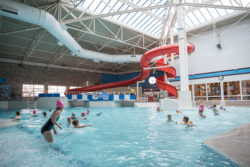 Enjoy Swim, Slide & Waves sessions at Hyde Leisure Pool, with the following features:
Bubble beds – let the aches and pains of a hard day be washed away.
Wild water – let the rapids take you round in a wild water fashion.
Wave machine – during your session, listen out for the announcement and then wait for the waves – see if you can swim against them!
Red Ripster slide – as long as you are 4ft or taller, you can ride the Red Ripster – let it take you on a twisty, fun-filled journey down to the catch pool at the end.
Address
Hyde Leisure Pool
Walker Lane
Hyde
SK14 5PL
Prices
Under 5 years £2.10
5 to 16 years £3.70
Adult £5.80
Family (2 adults and 2 children or 1 adult and 3 children) £15.25