Are you looking for a highly rewarding career that helps to make a difference and comes with a host of benefits, training, rewards and opportunities?
Well, that's what working for Active Tameside is all about.
We're a team – more like a family actually – of like-minded individuals, passionate and committed to helping the Tameside community to live their best lives.
We care and support each other in the workplace and that's something we're exceptionally proud of.
We offer a whole of host varied careers and job opportunities from customer-facing roles to positions which are pivotal to helping people to make changes which enable them to live heathier and happier.
And there's no limit to what you can achieve with us if you're committed to a rewarding career in the leisure industry – we'll support you every step of the way.
We're not a commercial business, we're a charitable, not-for-profit trust which means we're all about reinvesting – in our facilities, our wonderfully diverse Tameside communities and our employees.
We plough every penny of our profits back into our organisation to ensure everyone can access the highest quality facilities and a range of award-winning health and social care services which really are LIFE-CHANGING.
Working for us means you'll be helping to inspire and support generations.
That could be across our Active centres or helping our amazing community services to transform the lives of children, young adults and older residents.
And in return we'll look after you, including free all-inclusive membership worth £34.99 a month, 6.2 weeks of annual holiday, a fantastic pension scheme, an employee health and wellbeing programme and lots of offers and discounts.
We also understand how busy life can be and the importance of achieving a work / life balance.
We'll do all we can to support this and accommodate more flexible working where possible.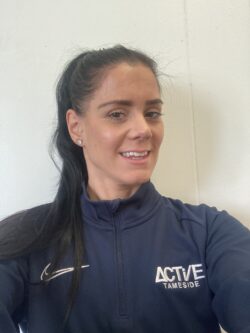 Let's now introduce one of our long-standing 'family' members to explain why working for Active Tameside is so much more than just a job.
Chelsea Mears-Graham is our Live Active Manager and has worked with us for 17 years, starting out as casual lifeguard aged 19.
Chelsea has taken every single career development and training opportunity and has worked passionately as a swimming teacher, fitness instructor, personal trainer and exercise referral officer.
She now runs our Live Active service which makes physical activity accessible to older residents and those with long-term health conditions.
"I have honestly loved every job I've had at Active Tameside and the impact I've had on the members that attended the gym and my classes.
"I've grown in confidence because of the encouragement from my line managers and one thing I am so grateful for is the lifelong friendships I have made.
"I have worked within the Live Active service for four years and gained so much knowledge and expertise within this field.
"I'd never managed a team before, but this wasn't seen as a barrier. Through my initial six months within the role, I was mentored and offered additional training. I constantly received feedback about my work from my line manager and support from all areas of the company to help me grow.
"Working for Active Tameside has some amazing benefits including the cycle to work scheme, Greater Manchester Pension Scheme, the BHSF health scheme, not to mention the furlough support all employees received during the pandemic.
"If you are willing to work hard, show commitment, enthusiasm and passion, Active Tameside will support you to grow and develop within your employment and as an individual."
We're different and proud of it and we'd like YOU to be part of the massive difference we make.
Browse our current job vacancies or find out more about the rewards and benefits we offer and how we care for our employees
[default_btn url="https://www.activetameside.com/job-vacancies/"]View vacancies[/default_btn]/
[default_btn url="https://www.activetameside.com/careers/"]Visit careers page[/default_btn]