Special Education Programme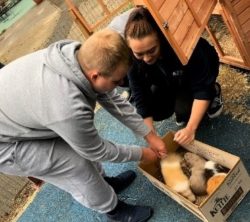 Our Special Education programme allows us to support some of the most complex and challenging young people within the local community, who have often struggled to attend a traditional educational session for various reasons, leading to no schooling.
Our aims for the provision are to create a pathway to independence, developing people holistically with aims to grow, improving social skills, health and wellbeing and looking to teach important life-skills through interesting and enjoyable activities, whilst also ensuring we deliver a person-centred approach.
Our team looks at innovative ways, through a diverse program to re-engage the young people by supporting and offering new, unique experiences in a variety of alternative sessions, through adventurous and experiential learning, providing the structure and constancy needed to form the platform they need to grow and achieve their potential.
Currently, our services deliver to 18 young people across different cohorts from various backgrounds, with the longer term views of preparing them for their individual pathways, whether that be integrating back into the community through volunteering opportunities, progressing onto our Supported Internship programme or Care 2 Success scheme, and gaining paid employment and/or transitioning into our adult social care provision.
The programme's common themes are:
To develop the learner's life, confidence, independence, and communication and social skills, enabling them to add long-term value to their lives, families and the wider community, gaining the ability to learn from experience.
To control behaviours and make good choices; and the self-esteem, resilience, and motivation to persist towards desired goals.
For more information, email: dan.higgins@activetameside.com or call: 07833 468 205.
Supported Internship
Our Supported Internship offers an employment-based course that gives young people with learning disabilities/additional needs the opportunity to develop employability skills in a real work place, surrounded by other working people, with a view to gaining new experiences and learning new skills in order to gain paid employment.
The Supported Internship programme allows exposure to the working environment, the wider community and a variety of activities and life skills, with great emphasis on developing independence in order for the interns to reach their full potential.
The Internship is run in partnership with Tameside College, Tameside Hospital, Tameside Council and Jigsaw Homes Group and consists of a combination of on-site classroom sessions and work experience placements at Active Medlock, Tameside Hospital and Jigsaw Homes Group.
Our aims are based around creating a realistic, sustainable pathway to employment for each person on the Internship, whilst at the same time being able to provide a person-centred approach, increasing social skills, developing team working, increasing levels of health and wellbeing, gaining further qualifications and applying theory to working practice.
View our Supported Intern success stories: Dylan – George – Amit
For more information, email: dan.higgins@activetameside.com or call: 07833 468 205.
Work Experience
Active Tameside offers work experience for young people through school or college referrals. The work experience is traditionally 1-2 weeks in a specific job role. The student will choose a preferred area in which they are keen to gain experience in the facility they are allocated.
The student will have a work book to complete over the allotted duration of the work experience to document and achieve learning outcomes.
For more information, email: helen.wilson@activetameside.com.
Youth Intervention

Live Well Youth Intervention, in partnership with Great Sports, runs a number of free youth provisions across Tameside, offering young people aged 8-16 the opportunity to feel safe within their communities, engaging with others and bringing together a greater sense of community acknowledgment.
The provisions assist disadvantaged young people, giving them the opportunity to develop as individuals and enjoy new challenges, through volunteering and social action, whilst making a positive contribution to the community. The aims are to:
Build young people's self-esteem and self-confidence.
Develop young people's ability to manage personal and social relationships.
Create learning opportunities for young people to develop new skills.
Encourage positive group atmospheres.
Build the capacity of young people to consider risk, make reasoned decisions and take control.
Active Tameside, with Great Sports Youth Provision, provide a diverse and equal opportunity for all of the young people. Sessions include swimming, cooking, life skills, multi-sports and youth work. Detached workers cover a range of social, behavioural and anti-social behaviour, tackling drug, alcohol and sexual issues, linking into outside agencies.
For more information, email: helen.wilson@activetameside.com.