Pride of Tameside Sport & Physical Activity Awards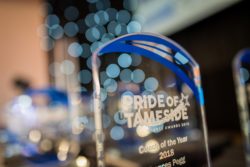 There are hundreds of Tameside sportspeople who have given their time and commitment to sport. The Pride of Tameside Sport & Physical Activity Awards is an event to recognise and celebrate the success of these stars across Tameside.
LAC & Disability Celebration Events
Active Tameside's Live Well service leads and delivers LAC and disability events across a number of sites. The events offer young people, up to the age of 25, the opportunity to engage with other young people from similar backgrounds and share success stories in a safe, fun environment.
LAC events have included a football competition, amongst other things, bringing together young people from outside the area. Tameside's LAC football team went through to the final in the Wirral and won.
The service assists young people to develop as individuals and enjoy new challenges, through social action, whilst making a positive contribution.
Our aims are to:
Provide a fully inclusive activity programme.
Build young people's self-esteem and self-confidence.
Develop young people's ability to manage personal and social relationships.
Create learning opportunities for young people to develop new skills.
Encourage positive group atmospheres.
Build the capacity of young people to consider risk, make reasoned decisions and take control.
For more information, email: jonathan.king@activetameside.com or call: 07738 498 003.
Active Rewards
Active Tameside's Everybody Can service is designed to support schools and colleges with alternative provision, to help combat a verity of ongoing issues, such as anti-social behaviour, social exclusion, intervention prior to exclusion from mainstream schools and pupil referral units, across the wider community.
Young people work towards achievable personal goals and targets, overcoming personal social and interpersonal issues to secure one of the Active Tameside rewards.
The rewards are designed to meet groups' needs and they are only achievable once all targets have been reached, providing young people with a sense of achievement.
Active Rewards include:
High Ropes at Sky High Adventure.
Laser Zone at Total Adrenaline.
External reward trips for high achievers.
For more information, email: helen.wilson@activetameside.com.