You'd love to pop down to your local Active Tameside centre and try out the latest Les Mills fitness class trend you've heard so much about.
You've been desperate to try Tai Chi, Yoga or Pilates to help you unwind and zone out from the stress and chaos of everyday life – and those Zumba beats would be the perfect antidote to a testing week.
So, what's stopping you?
If it's FCF – Fitness Class Fear – we're here to help.
And don't worry, it's a well-known 'condition' and tends to be caused by the most common type of fear – fear of the unknown!
When it comes to exercise classes most people's concerns probably include the following:
"How will I keep up?"
"Everyone else in the class will know what to do except me."
"How will the instructor know I'm new?"
"How will I know what to do?"
If these are the FCF thoughts racing through your mind and stopping you from taking the first step, read on.
Working out in a group has so many benefits that this 'minor' obstacle really shouldn't stand in the way of opening up to a whole new world of health and happiness.
Not only is working out with like-minded individuals motivating and inspiring, group fitness is structured and planned safely, from the warm-up to the cool-down.
You also have a fitness instructor to make sure everyone is working out in the right way – essential for getting the most out of exercise and avoiding any potential injuries.
There's also plenty of variety and types of class – over 200 of them every week throughout Active Tameside centres – to keep you motivated. If boot camp isn't for you, maybe give Spin or Tone and Shape a try.
Pre-booking a class is a great way to ensure you attend and don't skip at the last minute, and bringing a friend along for moral support is also a great ice-breaker and will make you feel less alone.
Most of all, class workouts are great way to put the fun into fitness; upbeat music, motivation from fellow class members, socialising and a few laughs along the way.
Active Tameside Fitness Development Manager Steph Mallet has been Fitness Lead for over three years and knows how daunting it can be to walk into an exercise class for the first time.
Alongside co-ordinating all eight centre timetables, training and managing Active Tameside's team of instructors – plus a whole host of other roles! – she's helped countless people conquer their FCF and has welcomed hundreds of class newbies through the doors.
Here's a Q&A session with Steph about how to get started, the best classes for beginners and an insight into what to expect.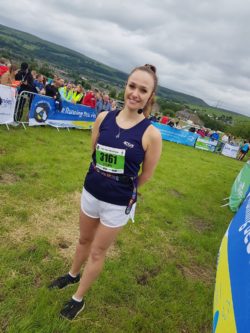 What if you're apprehensive about trying a class for the first time? What reassurance and advice can you give?
Please arrive a good five minutes before your class, approach the instructor to let them know you are new and advise of any injuries or health problems.
It may take a few weeks before you get into the swing of things, but don't give up.
You may have to try a few different types of classes before you find what you enjoy. If you enjoy a particular class, you are likely to stick to it.
Above all, don't be intimidated. Classes are full of people with a range of abilities so don't worry about standing out. Just remember everyone was a beginner once!
What classes should you go for as a beginner?
All instructors can cater for all fitness levels – alternatives for beginners can always be added.
What are the different types of classes?
There's a range of Les Mills classes – BodyCombat, BodyPump, BodyAttack, Sprint, BodyBalance and Grit.
We also have Zumba; Zumba Strong; Spin; Tone and Shape; Synrgy; Legs, Bums & Tums; Glute Camp; Tai Chi; Yoga; Pilates and Holistic Fusion.
For class descriptions click here.
What can you expect in various classes?
BodyCombat – this is mixed martial arts to music.
BodyAttack- a sports inspired cardio workout to help tone, shape and strengthen the whole body.
Sprint – HIIT (high intensity interval training) on a bike.
BodyPump – barbell workout to music.
What classes would you suggest for different fitness requirements, for example, toning, losing weight, building fitness etc?
For cardio (fat burning) I'd recommend BodyCombat, BodyAttack, Sprint, Grit, Zumba, Zumba Strong, Spin and Circuit.
For shaping, muscle definition and strengthening I'd suggest Tone and Shape; BodyPump; Synrgy; Legs, Bums & Tums; Glute Camp; Kettle Bells and Strength & Conditioning.
For mind, body and stretch there's Tai Chi, Holistic Fusion, Pilates and Yoga.
I would recommend a combination of all three areas.
What are the most popular Active Tameside classes?
BodyAttack- A whole body workout that burns calories whilst toning and shaping – our sports inspired moves will improve co-ordination and agility, so you can be quicker off the mark in everything you do.
Yoga – Offers self-reflection and a sense of achieving one's potential – the practice of kindness, self-compassion and continued growth and self- awareness, alongside many health benefits such as flexibility, strength and injury prevention.
Pilates – Creates long, lean strong muscles, improves muscle tone, creates beautiful posture and enables you to move with ease and grace
Legs, Bums & Tums – Tone and shape those troublesome areas and improve flexibility – lunge, crunch, step and squat your lower body into becoming tighter and more toned.
Zumba/Dance Aerobics – The low and high intervals make these classes an excellent cardiovascular workout and boost heart health. Attending these fun, social dance parties is a great way to de-stress.
Cycle Workout – Strengthen the legs, hips and glutes, burn calories, boost heart health and lung capacity. This low impact workout helps you to join a community that feels like part of a team.
What are the benefits of joining a class?
There are so many benefits to group exercise.
It's a real mood-lifter. It helps combat stress, anxiety and depression and it's definitely beneficial for weight loss.
If you're really looking to get in shape, it's perfect for building definition and shaping up muscles.
It releases endorphins, improves strength and flexibility and coming to classes is a great way to make new friends.
There are also fantastic life and health benefits. Class-goers have fewer sick days, as exercise boosts the immune system and helps alleviate some health conditions.
Hopefully we've put most of your FCFs to rest and you'll be joining in with one of our exercise classes soon.
The hardest part will be walking through the door – honest! – and before long you'll be hitting your fitness goals, boosting your health and turning your Fitness Class Fear into Fitness Class Fun.
There's nothing more gratifying than conquering your fears!
Alongside our popular Les Mills, strength, cardio and mind & body classes,we also offer weekly Aqua Fit sessions at Active Copley, Active Ashton, Active Hyde, Active Denton and Active Medlock pools.
Most of our classes are suitable for ages 13 years and over (but must be with a parent or guardian), while some classes are for ages 16 years and over (excluding iTRAIN where all classes are for ages 16 years and over). If you want to check the age restriction of a class, please call the individual centre.
Our group exercise classes are included in our All Inclusive, Student and Corporate membership packages, as well as Active Choice memberships that include 'Classes' as one of the options.
Alternatively, you can view our prices here.