Free 3-Day Pass to Celebrate National Fitness Day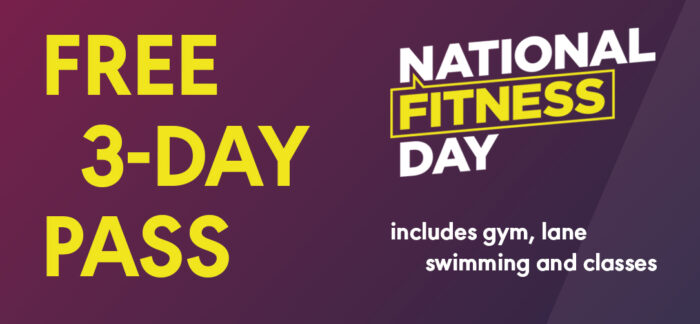 Taking place on Wednesday 23rd September 2020, National Fitness Day is the most active day of the year, and the day to celebrate the role that fitness and physical activity play across the UK. It's a day when people of all ages, backgrounds and abilities come together to celebrate the fun of fitness.
To celebrate National Fitness Day, we are offering a FREE 3-DAY PASS, valid on 23rd, 24th & 25th September. This means that you can book the gym, lane swimming and group exercise classes for free on these dates.
To claim your three free days of fitness sessions, please sign up in advance as a Casual Member, by following the instructions below.
How to sign up for a Casual Membership
Select your nearest Active Tameside centre then select the FREE 'Quick Add Casual' membership. You will then be required to fill out your personal details.
Please ensure that all details are filled out correctly then click confirm. The following details will be required:

Full name
Home address
Postcode
Date of birth
Contact number
Email address

You will then receive a confirmation email with your membership details.
How to register for an account, to be able to pre-book your sessions
Click on the 'Register' button.
Enter the email address you gave when you signed up (if you didn't, then please provide one of your choice).
Create and enter your new password, confirm the password and then read and accept our Terms and Conditions.
Shortly after this, you will receive an email to complete your registration – simply click on the link provided in the registration email.
This will take you to a final step to complete your registration – you will need to complete the following details and they must match the information provided upon signing up:

Membership number (e.g. – ASH00001)
Postcode
Date of birth
Phone number

You will then need to click 'complete registration'.
Please see below for the error messages that you may receive:
'Your email address is already registered to an account' – this will be because you already have an online account, so you just need to follow the 'reset password' procedure.
'The information you provided is incorrect' (e.g. incorrect contact number) – please contact membership@activetameside.com for further support with this.
If you already have a Casual Membership, you can book activities as usual, either via our app or online here. Upon confirming each booking for 23rd, 24th & 25th September, the charge will be deducted to £0.
Terms and Conditions
Offer only valid on 23rd, 24th and 25th September 2020. Sessions booked outside of these dates will be charged the standard price.
Offer includes the gym, lane swimming and classes only.
Can be used at any available Active Tameside centre, excluding Active iTrain.
All gym sessions, lane swims and classes must be pre-booked, either via our website or the easy-to-use Active Tameside app.
Offer only available to people aged 16 years and above.
Not to be used in conjunction with any other offer.
Covid-19 centre safety procedures apply.
Latest News
Related Events