Join for a Coin with Active Tameside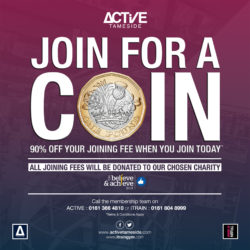 'Join for a coin' with Active Tameside this April! If you sign up to any of our direct debit memberships, you will only pay a £1 joining fee, which is a 90% reduction on the usual cost of joining.
We are partnering with The Believe and Achieve Trust and we will donate all £1 joining fees that we receive to the charity. The Believe and Achieve Trust aims to increase the physical and mental health of those affected by meningitis and it supports sufferers who wish to succeed in sport.
The 'join for a coin' offer is available on all direct debit Active Tameside and iTrain Gym memberships. The All Inclusive package gives you access to 7 gyms (including iTrain), 5 swimming pools, over 200 weekly group exercise classes and 3 thermal spas.
Alternatively, the Active Choice package enables you to choose from 2 of the following: gym, swim, spa or group exercise classes across Active Tameside centres and pools. So, if you only want to go swimming and attend classes, for example, this could be the ideal option for you.
To sign up with this fantastic offer, you can either visit one of our centres or you can sign up online at: www.activetameside.com/memberships. If you would like to speak to our membership team and get more information, you can call them on: 0161 366 4810 or email: membership@activetameside.com
The money donated to The Believe and Achieve Trust will help them to continue their great work and provide meningitis sufferers with much-needed funding and specialist equipment.
CLICK HERE TO JOIN ONLINE
Terms and Conditions
Offer available to new members who sign up between 1st April and 30th April 2019.
Offer only available on direct debit memberships with Active Tameside or iTrain Gym.
Not available in conjunction with any other membership offer.
Active Tameside reserves the right to refuse membership sign up, which is at the discretion of the Membership Advisors or management team.
Latest News
Related Events