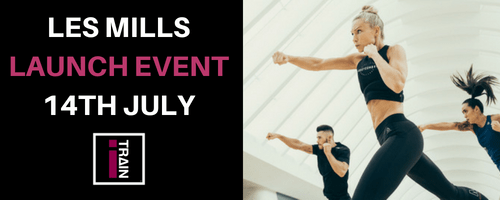 iTrain Gym in Dukinfield is holding a Les Mills group exercise class launch event on Saturday 14th July. The event will showcase the latest releases of GRIT, SPRINT, BODYPUMP, BODYATTACK, BODYCOMBAT and BODYBALANCE.
If you're already an iTrain member, you can book on to as many of these classes as you like online here, up to 7 days in advance of the event. If you don't already use iTrain, you can sign up to one of our 1 day, 3 day, 7 day or 30 day passes, but please note that classes are subject to availability and may fill up in advance.
iTrain membership is only £17.99 a month, plus a one-off £10 joining fee. This includes all group exercise classes and you can make the most of the 24/7 opening, members' lounge and cafe too. You can sign up for any iTrain membership online here.
Not all of the Les Mills classes taking place at the launch event are on the usual iTrain timetable, but you can attend these classes at other Active centres if you have an All Inclusive Active Tameside membership or an Active Choice membership which includes Group Exercise. Find out more about membership here.
Launch event class timetable
8am-8.30am: GRIT by LES MILLS
8.30am-9am: SPRINT by LES MILLS
9am-10am: BODYPUMP by LES MILLS
10.15am-11.15am: BODYATTACK by LES MILLS
11.30am-12.30pm: BODYCOMBAT by LES MILLS
12.45pm-1.45pm: BODYBALANCE by LES MILLS
Class descriptions
GRIT: high intensity interval training (HIIT) in 30-minute sessions, designed to improve strength and build lean muscle. This workout uses barbell, weight plate and body weight exercises to blast all major muscle groups.
SPRINT: a 30-minute high-intensity interval training workout, using an indoor bike to achieve fast results. This low impact workout will drive your body to burn calories for hours. You combine bursts of intensity, where you work as hard as possible, with periods of rest that prepare you for the next effort.
BODYATTACK: a high-intensity cardio workout designed to build strength and stamina. This high-energy class combines sports-inspired athletic aerobic movements with strength and stabilisation exercises.
BODYCOMBAT: punch and kick your way to fitness. This high energy martial arts inspired workout is non-contact, with no complex moves to learn. Your instructor will challenge you to up the intensity and motivate you to make the most of every round.
BODYPUMP: get lean, toned and fit fast. Instructors will coach you through the scientifically proven moves and techniques, pumping out encouragement, motivation and great music. You will use light to moderate weights with lots of repetition.
BODYBALANCE: controlled breathing, concentration and a carefully structured series of stretches, moves and poses create a holistic workout that brings the body into a state of harmony and balance.