We've all been there.
The beach beckons, you want to be poolside prepped and the thought of having to banish those baggy winter jumpers for a few months is great motivation for slimming down, toning up and getting fitter.
Longer days, sunnier weather and generally feeling better about ourselves or a sporting event on the horizon – they all inspire us to slip on the running shoes or dive into a swimming frenzy in the build-up to summer.
All these things have probably given you all the encouragement you needed to hit those weight loss or fitness goals over the last few months.
But what happens when those summer incentives start to fade away and the winter slump begins to beckon?
Many of us find ourselves slipping back into old 'can't be bothered' habits, skipping the gym and looking forward tosnuggling up indoors and tucking into that deliciousseasonal comfort food.
After all, you've worked hard, right?
Surely, it's time to take your foot off the treadmill for a bit – at least until Christmas party season is in sight?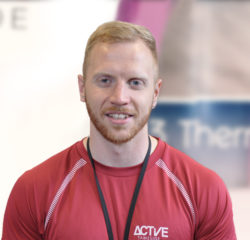 Of course, we all need to ease off at times so we don't lose focus, but, as Matthew Wilkinson, a fitness instructor at Active Medlock explains, the longer you take to get back on track, the harder it will be.
Matt has dedicated his life to sport and is currently a member of the Great Britain American Football squad.
He is devoted to sharing his passion for health and fitness and believes exercise and nutrition is so beneficial to our physical and mental health they are "the most undervalued form of therapy in today's society".
In this Q&A Matt shares his insight and advice for maintaining fitness and weight loss and why you shouldn't blame a blip on boxsets and a boozy tipple!
What are the biggest issues people face once they've reached their weight loss and fitness goals?
"There's something incredibly energising and motivating about starting afresh. A lot of people have great success when they start a new gym routine and diet plan.
"However, issues can arise once the initial excitement has worn off or you've crossed that imaginary 'finishing line' and achieved your first target.
"If you're not careful here, before you know it, a month of Netflix marathons, takeaways and a seemingly never ending 'gin o'clock' has passed and you're back to square one… or worse."
How common is it for people to lose focus and motivation?
"The good news is, it's incredibly common, in fact, it happens to everybody to some degree – and if anybody tells you any differently, they're probably lying.
"Those who seem to be successful year-round and make consistent progress are the ones who only go off the rails for a short period of time before re-focussing their efforts towards the next step in achieving their long-term fitness goals."
Do you have any tips and advice to help people to re-focus?
"After reaching your initial target, schedule in a period of down time (this could be two days or two weeks) where you take it easy, so you can recharge physically and mentally. During this time, place no pressure on yourself to eat a specific diet or complete a certain workout.
"Simply exercise to feel better about yourself and do it purely for pleasure. Let your intuition guide you, and if you don't feel like doing something, DON'T!
"Examples may include dog walking instead of your weekly spin class, light swimming instead of your weight training session or a kick around in the park instead of your treadmill hill sprints.
"Scheduling in these down times will ensure you don't fall off the rails, regress and keep you casually accountable for yourself during the most dangerous time you could rebound to old habits. It will ensure you are feeling fresh to kick on when you start working towards your next target.
"Remember – progress isn't a straight line."
Can you recommend any particular exercise or Active Tameside classes that would help maintain weight loss and fitness?
"There aren't any classes on the timetable that will be counterproductive towards your weight loss and fitness goals – so try them all.
"As a general rule of thumb, moving more and eating a bit less, consistently, is a winning formula for creating a leaner and all-round healthier body.
"Remember -consistency is key to progress. If you don't like something, you won't stick at it (as determined as you think you are), which means you won't get the results you're striving for in the long run."
Do you have any tips and advice on the best way to lose weight?
"I endorse four things:
"Nourish your body with what it needs. This means eating proper, whole foods full of vitamins, minerals etc – not packaged, processed junk food. Be sure to drink plenty of water throughout the day and limit your caffeine intake too. This will provide you with a steady release of energy, which will benefit your workouts tremendously.
"Prioritise sleep. When your body is in a fatigued state, it will naturally crave more calories for energy. Simply allowing yourself to sleep better will help you control your cravings and improve your workouts.
"Be consistent and patient. The random 'hardcore' workout session or a few healthy meals a week doesn't make you healthy. It takes time to achieve long lasting meaningful results.
"Take absolute ownership of your results. A quick fix workout app, fat burner or skinny coffee supplement isn't going to get you where you want to be. Shift the mind-set and responsibility from these quick fix gimmicks and make yourself completely accountable for your own results."
How important is it to have a goal in mind such as a Christmas party, holiday or sporting event?
"The short-term goals will help you in the present and 'now', maybe even mid-workout.
"However, more valuably, it is important to find your 'why' or real long-term goal.
"Once you get past the more shallow motivating factors, such as: "I want to fit in my Christmas dress" – and start to transfer your mind-set to a more deep, motivating reason for exercising regularly like "I want to live a fulfilling, healthy life into my old age, to see my children grow up" – you're onto a winner and may never need to artificially motivate yourself again."
Why is it important to combine weight loss with exercise?
"Exercise and nutrition go hand in hand with each other, without one the other loses its power and benefit. For example, if you exercise religiously for a year, but then eat pizza and sweets all day, you probably won't progress anywhere close to how you'd like to – if at all.
Finally, any words of wisdom or motivation for those who may be struggling or just need a bit of encouragement?
"It's not supposed to be easy. There's a lot of people who struggle to achieve what they want regarding their health and fitness.
"However, not to be too cliché, if it's easy, it's not worth having – so be prepared to push through the hard times. It'll be worth it!"
As Matt says, identifying a deeper motivation for keeping fit and healthy is the best way to maintain your achievements.
And thinking back over how much effort and willpower you've already put in; wouldn't it be a shame to let it go to waste?
Active Tameside runs over 200 weekly group exercise classes – working out with others is a proven way to keep motivated – with something for everyone, both body and mind.
Find out more about our fitness classes.
Active Tameside membership is another great way to ensure you stick to your health and fitness promises with eight centres, five swimming pools, gym studios and two spas to chose from, you can combine exercise and wellbeing.
Read more about our gym memberships.
If you need support and guidance to stay on track with your health and fitness goals – whatever they may be – our Personal Trainers can also help by devising specially tailored workout programmes.
Click here for more information about personal training.