Congratulations to all winners from our previous Pride of Tameside Sports Awards. We are looking forward to the 2022 Pride of Tameside Sport & Physical Activity Awards and we will update this page with more information about the Awards soon.
There are hundreds of Tameside sportspeople who have given their time and commitment to sport. The Pride of Tameside Sport & Physical Activity Awards is an event to recognise and celebrate the success of these stars across Tameside.
There are 9 different categories: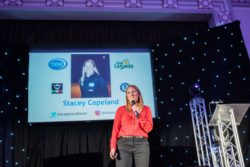 Changing Lifestyle Award
Club of the Year
Young Sports Achiever of the Year
Unsung Hero
Alex Williams Volunteer of the Year
School Commitment to PE and Sport Award
Disabled Physical Activity Champion (Local Award)
Workforce Advocate Award
Community Initiative Award
Over the years we have had a variety of sporting nominations; from fencing and 10-pin bowling to triathlon and football. All winners from each category at the Tameside Awards will have the opportunity to represent Tameside at the Greater Manchester Awards.