= 900, mobileScrolled = window.scrollY >= 50" :class="mobileMenuOpen ? 'overflow-hidden' : ''">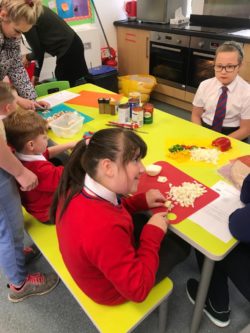 A family food scheme is aiming to take a bite out of child-obesity by serving up meals that are tasty as well as good for you.
The Healthy Cooking Programme, which is now in its eighth year, is designed to encourage children to make nutritional choices from an early age by supporting families to develop their skills and confidence when preparing meals.
Delivered by Active Tameside in partnership with NHS Tameside and Glossop Integrated Care Foundation Trust's Children's Nutrition Team, it's in place at community venues and 25 Tameside primary schools that are part of the Active Education programme.
Families with Key Stage 2 children (age seven to 11) will benefit from sessions taking place until July 2020.
Tameside Council's Executive Leader, Cllr Brenda Warrington, said: "This is a marvellous programme and it's fantastic to see so many schools involved.  In Tameside, 37% of children (34.3% in England) are overweight or obese.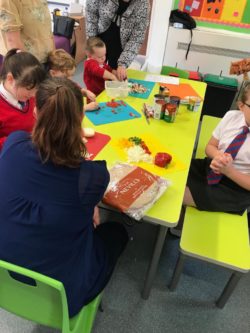 "This programme will help our children and parents learn about buying, preparing and cooking more healthy meals, helping to reduce the high obesity rate in Tameside."
Active Tameside's Sports Coach, Andy Williams, added: "I like how the sessions have had a good impact on both the child and parents' health and wellbeing. I have seen a difference in engagement with some of the pupils who attended the cooking classes and when speaking to them they have mentioned a change in the diet".
Andrew Fletcher, Child and Family Support Officer at Arlies Primary School in Stalybridge, said: "The healthy cooking sessions have really opened the parents' minds and engaged them to make the right option when picking foods. The quick and easy to make meals are perfect for both parents and children to cook together.
"This is a good way of spending quality time with your child as well as taking care of your health and well-being. The staff who delivered the session was really helpful and approachable. We would recommend the session for any parent and child to take as we have had nothing but amazing feedback from both parents and children."

Your card, your choice. Choice is a great thing in life, so you've come to the right place. With so many ways to spend your Active Choice Card you'll never be stuck for fun family times, fitness and wellbeing times, Fuel cafes catch-up times and for those activity must-haves (forgotten the goggles, stylish swimwear) you can also spend it at our in-centre stores.