Regular exercise has long been hailed as the 'miracle cure', helping to reduce the risk of major illnesses such as heart disease, strokes and breast cancer as well as lowering the chances of depression and dementia.1
It's also been linked to boosting immunity, helping to fight viruses such as Covid-19 and other infectious diseases.
But a new study – a world first into the link between exercise and Covid-19 immunity – reveals it has another incredible string to its bow – it can also significantly increase the effectiveness of vaccines by up to 40%.
According to the findings by Glasgow Caledonian University (GCU), physically active people are 50% more likely than inactive people to develop higher levels of antibodies after having a vaccine.
That means those who are vaccinated and exercise on a regular basis are much more likely to develop a strong immune response.
The study also found regular exercise reduces the chance of catching Covid-19 by 31% and the risk of dying from infectious diseases such as Covid-19 by 37%.
So, what do we mean by regular exercise?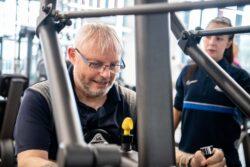 Well, the study endorsed the recommended 150 minutes per week – or 30 minutes a day, five days a week – of activity which gets you slightly out of breath such as walking, running, cycling and strengthening exercises.
It found this amount of physical activity can have a 'massive impact on immunity to infectious diseases such as Covid-19'.
One the GCU website2, its Professor of Health Behaviour Dynamics Sebastien Chastin, who led the research, said: "This research is hugely significant and could help to cut the number people contracting COVID-19 and dying from it. It is the first piece of research that proves regular physical activity protects you against infectious disease.
"We found that regular exercise where you get out of breath boosts your immunity to infectious disease by 31 per cent and it increases the number of immune cells in the body in the first line of defence which is the mucosal layer of antibodies. These cells are responsible for identifying foreign agents in the body without depressing the rest of the immune system so it's perfectly safe and protects you against infectious disease.
"We also found that if you add physical activity to your vaccination programme it increases the potency of the vaccination. We are recommending a 12-weeks physical activity programme before vaccination which could result in 20 to 40 per cent more effective immunisation.
He added: "The clear message is stay active – it's not only good for your mental and general health but we now have the proof that it is also good for boosting your immunity. You need to keep it up as it's about regular exercise and making time to build it into your day."
Keen to endorse any opportunity which shines a spotlight on the undeniable facts surrounding the benefits of exercise, we asked our Live Active Manager Chelsea Mears-Graham to give her expert opinion.
Chelsea has worked for Active Tameside for 17 years, from casual lifeguard to now overseeing our Live Active services which makes physical activity accessible to older residents and those with long-term health conditions. You can learn more about Live Active by watching our video here.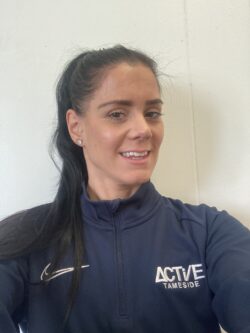 "Studies and research have proved that the more physically active and healthy an individual is, the more likely they are to have an auto-immune response to fighting off Covid-19 and other infectious diseases," said Chelsea.
"This new research appears to show that the healthier and more active you are, the more effective the vaccine will be at reducing the chance of catching it and becoming seriously ill if you do. This is why physical activity is so important, as well as the vaccine, to tackling the ongoing Coronavirus pandemic.
"Physical activity can benefit health in so many different ways; improve cardiovascular fitness, improve joint mobility and strength and increase your immune system with improved production of white blood cells.
"In my time of working with the health and fitness industry, and most recently in the exercise referral industry with people with long term health conditions, I have seen first-hand the benefits exercise can have on an individual's health and wellbeing. They report having more energy, feeling fitter and experience faster recovery from illness.
"Active Tameside wants to everybody to live their best lives healthily and safely, through its wide range of services and activities. Throughout the pandemic we have heavily encouraged physical activity to embed the health benefits associated with exercise from online classes to community health walks."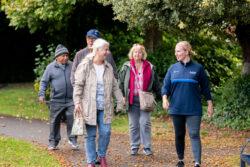 As Chelsea says, as a leisure trust committed to supporting the health and wellbeing of our communities, we've long extoled the virtues of regular physical activity and the great benefits it can bring to anyone and everyone, particularly since the pandemic began.
This latest research emphasises the need for us all to seize this accessible to all opportunity to do as much as we can to be both healthier and happier.
And the great news is, physical activity needn't be a daily grind, it can be fun and fulfilling as well as beneficial for our health.
Take our group ex classes. With over 200 to choose from not only can you work out in so many different ways, you can share the exhilarating experience with your class mates and find long-lasting friendships, also great for your wellbeing.
If the gym isn't for you, try the tranquillity of the water for a fantastic full-body swimming work out which is also great for the mind too.
Team sports are a great way to exercise, relieve day-to-day stresses and socialise.
Cycling and walking are activities we can do to get us from A to B or enjoy at our leisure at weekends.
Whatever way you choose to get your daily dose of exercise, the message is clear – it's the best possible medicine for health and wellbeing and we're here to support you every step of the way.
Ready to get moving? Browse our timetables here and head to your nearest Active Tameside centre for some feelgood exercise and its far-reaching benefits.
References:
1 https://www.nhs.uk/live-well/exercise/exercise-health-benefits/#:~:text=Exercise%20is%20the%20miracle%20cure,a%20healthier%20and%20happier%20life.
2 https://www.gcu.ac.uk/theuniversity/universitynews/2021-physicalactivitycutscovid-19risk