Fresh from his participation in the star-studded Tour of Britain 2021, Go-Ride Community Cycling Coach Simon Wilson is back inspiring youngsters and two-wheel enthusiasts as part of our British Cycling partnership.
Simon, aged 41, completed the gruelling eight-day event – 1,320km in total, featuring 20,000m of ascents – in September as part of Ribble Weldtite Pro Cycling Team, competing alongside Mark Cavendish, reigning world champion Julian Alaphilippe and Tokyo 2020 silver medallists Wout van Aert and Ethan Hayter.
He was also in the company of 19-year-old GB Olympic hopeful Robert Donaldson, from Mossley CRT (Cycle Racing Team), who has attended many of Simon's Active Tameside partnership coaching sessions at our Tameside Cycle Circuit, in Richmond Street, Ashton.
As well as hosting weekly community cycle sessions the track is also used extensively by our award-winning Everybody Can service and was recently chosen by British Cycling to stage a focus day to celebrate the incredible gold medal-winning success of Paralympian Dame Sarah Storey.
In the Tour of Britain Simon helped Ribble Weldtite to finish 14th overall and Robert individually finished 39th overall out of 107 riders.
Robert is part of the British Cycling GB Academy and is currently a shining light within its Olympic Development Programme. He recently completed in the Under 23 World Championships in Belgium where he came 73rd as an individual.
Having also competed in the Tour of Norway and Tour of Slovenia this summer, Simon is now back to his day job as our Go-Ride Community Cycling coach.
On his Tour of Britain experience, he told us: "It was the hilliest route there's ever been I think, so it was pretty gruelling but really good.
"The crowds were fantastic and a number of riders that have come through my sessions came to watch me.
"I was supporting some of the other riders in the team. We had a 3rd on one stage and we were 14th overall and for a team of our size that's pretty good because the best teams in the world were there. It's the biggest race in the UK and took us from Devon to Aberdeen."
We first formed a partnership with British Cycling 12 years ago when Tameside Cycle Circuit was first built.
Simon has been our Go-Ride Community Cycling Coach since 2013.
He works within schools, our holiday camps, alongside Mossley CRT and supports several cycling groups including women only sessions and a monthly British Cycling para-cycling hub for disabled riders based at Tameside Cycle Circuit.
Working through the Active Education service's Coaches in Schools programme Simon currently delivers curricular sessions three times a week at Silver Springs Primary Academy in Stalybridge to inspire and develop youngsters' cycling skills.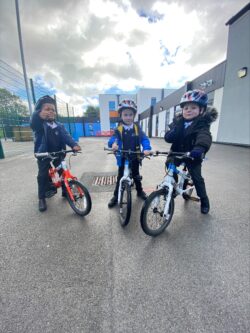 He continued to coach vulnerable youngsters and the children of key workers in schools throughout the pandemic and his after-school sessions have now resumed after they were halted by the impact of covid.
"Historically I've worked with a lot of schools in Tameside and worked with some really good riders who've come through the ranks," said Simon, who's won multiple national track, time trials and world masters titles in his long-standing career.
"It's more about teaching the sport of cycling, making cycling fun and ultimately teaching them to be better riders. We signpost them to Mossley CRT which is a great family club that has had its fair share of successes, including para-cyclist Katie Toft who has won world championship medals.
"We're keen to get many more schools involved with the coaching sessions and we would encourage schools to get in touch with Active Tameside if they're interested."
Simon says Tameside is blessed with great facilities and opportunities for those who wish to excel and those who simply wish to enjoy cycling as a great way to keep active.
"Tameside Cycle Circuit is unique in Greater Manchester and beyond," he said.
"The nearest equivalents I can think of are in Preston and Colne. It's certainly the only place in the north west where you can just book, turn up, borrow a bike and helmet for free and just get going.
"It's a fantastic facility, the people who come along absolutely love it and are often surprised by how much they love it.
"We run a British Cycling Pathway Talent Development Centre through the winter on Tuesday evenings and we have a really established session with up to 50 kids training at a high level.
"We also run women's only sessions and a HSBC UK Disability Hub – it's all about getting the circuit used and trying to encourage a growth in cycling.
"We're looking to create even more of a buzz around cycling in Tameside and through Active Tameside's British Cycling partnership and such a great facility, we have every opportunity to inspire families and the cycling stars of the future in a safe environment.
"Cycling is very accessible. It's a sport which doesn't need to be about competition. It can be whatever you want it to be."
Andy Dwyer, Active Tameside's Assistant Director of Health and Social Outcomes, said: "Simon has been our Go-Ride coach in partnership with British Cycling for the past eight years and has developed excellent relationships with schools.
"Along with providing pathways for young people in schools to local clubs, he is a great role model and we were delighted to see him take part in the Tour of Britain along with other high profile events across the country."
Any Tameside schools interested in taking advantage of Simon's British Cycling coaching expertise can contact him here
For more information on Tameside Cycle Circuit and how to book a session click here