Helping you to live your best life
Swimming in Tameside Schools
Active Tameside delivers the Swimming Teachers Association (STA) School Swimming Academy Programme to ensure the quality of learning and progression remain at the forefront of every swimming lesson.
With many pupils leaving school having not learned to swim at least 25 metres unaided, STA have created this programme to encourage skill development and enjoyment of the water, with the outcome to increase the number of pupils leaving school with water confidence and water safety awareness.
Specifically designed for primary school aged pupils, STA's programme meets National Curriculum requirements for strokes and distances, whilst also ensuring pupils develop water confidence, and key lifesaving and water safety skills.
Unlike other award schemes, the eight-stage programme encompasses skills in strokes, distance, lifesaving skills and water safety, and encourages learners to go beyond the requirement to be able to swim 25 metres by the time they leave primary school.
We have long maintained that the 25-metre aim is too low a target for youngsters, so in our school swimming programme, we've set this achievement at level 5. This means that learners have the change to further develop their skills and become better and safer swimmers through levels 6-8.
"All of our children make excellent progress."
 – Ashton West End Primary School, Ashton-under-Lyne
This is about ensuring learners are well-rounded and informed swimmers – not competitive swimmers – which is why we have broken it down into eight awards that mark key achievements in their progress.
It's also about encouraging learners to be motivated at every stage of the programme. We have struck an excellent balance between meeting the needs of the national curriculum and ensuring that swimmers are confident.
Benefits
New Swimming Teachers Association (STA) school swimming framework.
Experience swimming instructors.
Lessons designed to work pupils towards the achievement of national curriculum standards in swimming at key stage 2.
Half termly assessment data based around national curriculum attainment.
An invitation to a summer term school swimming gala, with a chance for pupils to compete.
Water safety lesson delivered at the pool at the end of each term.
Transport provided if required.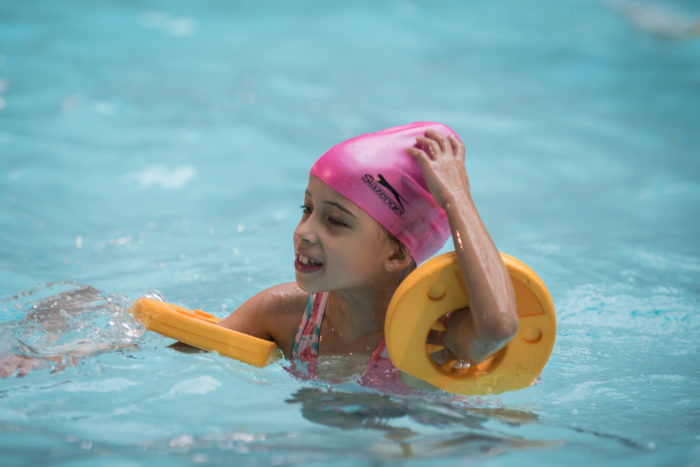 Pupils will work towards the following National Curriculum outcomes:
Pacing themselves in floating and swimming challenges related to speed, distance and personal survival.
The programme encourages pupils to surpass the national curriculum standard of 25m (award 5) and they are given the opportunity to develop their skills further through awards 6-8.
Recognised arm and leg actions, lying on their front and back.
A range of recognised strokes and personal survival skills, for example; front crawl, backstroke, breaststroke, sculling, floating and surface diving.
Swimming sessions are available in blocks of 12, 24 or 36 weeks, at 40 minutes for each session, over the school year. Transport can be provided where needed and additional swimming sessions can be purchased during the summer term to extend the opportunities for pupils' learning.
"The STA school swimming academy not only meets national curriculum requirements in relation to strokes and distances, it will also uniquely ensure that children are water confident by introducing key lifesaving and water safety skills at every stage of the programme."
– Claire Brisbourne, STA Operations Director
Active Tameside has recently embarked on a new project with Poplar Street Primary School using PE and Pupil Premium funding to enable swimmers to access further swimming lessons outside of their school swimming lessons.
Pupils are able to join Active Tameside's Swim School scheme at a reduced cost by the school funding half the cost of the private lessons and the parents funding half the cost. The initial response has been extremely positive and we look forward to expanding the project to other schools within the borough.
For more information, email: nicola.lawton@activetameside.com