Time to hit the ground running with a plan to firm up that training
With all those extra daylight hours gifted to us recently there's no excuse for not picking up the pace to crunch those miles and make them count.
And with running event season underway, the countdown is on to that place on the starting line – time to implement those training plans!
Active Tameside Live Active Officer Chelsea Mears-Graham is back to lay out her training plan prowess.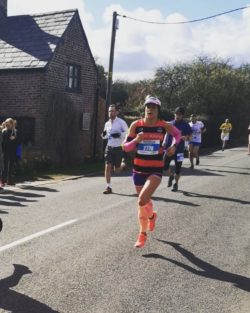 Chelsea, who has miles of experience when it comes to long distance running, triathlons and parkruns, admits she's a "sucker" for a training plan.
She believes they build consistent progression and give you a sense of purpose.
So whether you've signed up for June's Tour of Tameside, a charity event or a 10k, here's Chelsea's insight in to the best way to up the ante and prepare.
And even if you're not planning on pinning a competitor number to your chest, Chelsea's advice is equally applicable to those aiming to reach their ultimate fitness goals or have ambitions to tackle an event in the future.
"With my training plans for an event I usually look at an eight to 12-week timeframe, depending on the distance of the event," says Chelsea.
"I would aim for two strength training sessions a week. These can be in the gym or at classes such as BODYPUMP or GRIT Strength.
"In the gym I would do five sets of 5-10 reps of a heavy weight of the deadlift, squats, clean and press, and lunges.
"I would aim for 2-3 running sessions a week in the first 3-4 weeks, starting from 2-3 miles and building up to 5-6 miles.
"In weeks 5-8 I would work on speed and power and maintaining distance, incorporating hill sprints into my run or work on plyometric training sessions in the gym. GRIT Plyo/Athletic is a great class to improve this, as is spinning for a low impact version."
"Training plans are bespoke and personal and depend on the event or goal you are training for," says Chelsea.
"My best advice would be to start steady and build your distance up gradually, finish by adding half a mile on your run each time," she says.
"Once you have the distance, start to improve your speed. And ensure you have rest days, at least two a week."
Chelsea advocates running programmes such as Active Couch to 5K (web link https://www.activetameside.com/live-active/) which is designed to get just about anyone up and running 5km in just eight weeks.
The session is on Wednesday, at 5.30pm, at the Richmond Street Athletics Track, in Ashton, costing just £1 a session with various start dates throughout the year.
Another great community event for encouraging running is parkrun. It's a free, weekly timed 5k, every Saturday, at 9am. To find your local parkrun go to www.parkrun.org.uk.
If you'd like to sign up to the Tour of Tameside, hosted by Sports Tours International and Active Tameside, but haven't yet taken the plunge, Active Tameside is offering free 7-day passes for use in all centres when you enter the event. Find out more here.
The four-day festival of running takes place from 13th-16th June, tackling some of the most spectacular and toughest terrain Tameside has to offer.
Comprising of the X-Trail 10k, Hell on the Fell, the Dr Ron Hill Hyde 7 and the Hero Half Marathon – a race dedicated to PC Nicola Hughes who sadly lost her life in the line of duty in Tameside in 2012 – it's a highlight in the UK race calendar and fosters fantastic camaraderie and community spirit.
Alongside the sense of achievement of taking part, you'll also be helping to fight childhood obesity through The Running Bee Foundation, which will plough all Tour of Tameside profits into working with local communities to fund healthy and active lifestyle initiatives for young people.
For more information, click here.
Latest News
Related Events