So how are you getting on with those New Year's resolutions?
For many of us, the dawn of a new year heralds the opportunity to make a fresh start, be it losing weight, getting fitter, giving up our vices or improving our wellbeing.
But, as well intentioned as we may have been at the stroke of midnight on 31st December – NYE celebrations aside – a significant number of us fall at the first hurdle.
It's estimated around 36 per cent of us give up on our resolutions within the first month and over 50 per cent have given up after six months.
It seems a shame to see all that initial motivation go to waste when it could have made a life-changing difference both physically and mentally.
So just what are we doing wrong and what's the best method of sticking to our targets?
According to the NHS, psychologists have found that we're more likely to succeed if we break our resolutions down into smaller goals that are specific, measurable and time-based.
It's amazing to vow to lose weight, quit smoking or drink less alcohol, for example, but it needs to be done in an achievable and manageable way and it's sometimes a good idea to seek professional help.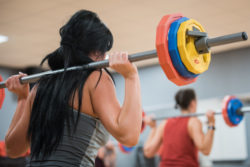 Instead of making several promises and in order to be more realistic, NHS experts advise making just one resolution, allowing you to channel your energy into changing just one aspect of your behaviour.
They recommend spending some time thinking about what you want to achieve and don't leave it until New Year's Eve to make that important decision.
You may even be inspired after the New Year has rolled in, so don't feel despondent if you haven't made one yet. It's better to make a considered, sensible decision than hurriedly plump for something that you know, deep down, isn't achievable.
It may not be a good idea to hark back to a previous resolution. Failing it again could end in frustration and disappointment and have a negative effect.
The most important aspects of making a commitment to change is motivation and support so let family and friends know about what you're trying to achieve and they can help you along the way. Imagine how proud they'll be when you finally achieve your target!
A good tip is to make a list of how achieving your resolution will benefit you and, while your eyes are on the prize, why not treat yourself to a little reward when you reach a sub-goal, giving you a sense of progress.
You could even start a journal to make your plans visual and concrete, or if you want to be hugely organised, set up a computer spreadsheet or a noticeboard with graphs, notes and pictures as a reminder of how far you've come and what you want to achieve.
Finally, if you do lapse, don't be too hard on yourself. We all have blips and if you treat them as a temporary setback rather than a total failure, you're less likely to give up altogether.
Unsurprisingly, the most common New Year resolutions tend to be healthy ones including weight loss, quitting smoking, getting active, drinking less alcohol and eating more fruit and veg.
AXA PPP healthcare has produced some handy tips to keep your body and mind on the right resolution path:
Find out your BMI
BMI is your body weight in kilograms divided by the square of your height in metres. A BMI of 25-30 is considered overweight and a BMI of greater than 30 is classified as obese. Your doctor can discuss your BMI with you and advise on steps to maintain a healthy balance.
Watch your alcohol intake
Healthy alcohol consumption is less than 14 units of alcohol per week for women and men (with no more than 3 units on any day). As a guide, one pint of ordinary-strength beer is 2 units; one small pub measure of spirit is 1 unit; and one small glass of ordinary-strength wine is 1.5 units.
Stop smoking
Smoking damages the lungs and cardiovascular system and significantly increases your risk of developing cancers. Stopping completely is the only way to avoid these risks.
Get your five a day
Check to see that you get the recommended five portions of fruit and vegetables per day. Plan your week day meals in advance and take salads and nutritious snacks with you to work, which will both save you money as well as contributing to your five portions.
Watch your saturated fat intake
Is your saturated fat intake too high? Everybody needs essential fats to remain well, but try to avoid dairy product fats and meat fats. Stick to vegetable and fish fats/oils wherever possible, and check the nutritional information on labels during your weekly shop.
Be resistant
Pay attention to your muscle tone and posture to help prevent bone and joint problems. Strong muscles and tendons promote healthy joints. Do some light resistance training for 15 minutes each day of the week and cover all the major muscle groups, including legs, arms, buttocks and back. Try cycling with light resistance, lifting light arm weights and back extensions/sit-ups (provided you do not have existing injuries or other medical problems).
Make time to relax
Make time for proper mental relaxation each day. Consider disciplines such as meditation or yoga, or simply take a gentle walk.
Sleep well
Sleep is an essential part of mental and physical healing, so make sure you get enough. Deep uninterrupted sleep is required, and most adults need between six and eight hours a day. Look for ways to turn your mind off before you go to bed at night, such as listening to music or reading a book, instead of switching immediately from working to attempting to get some sleep.
Evaluate your lifestyle
Make changes to your lifestyle to give you more relaxation time and space to work on your mental and physical health.
It may seem obvious but joining the gym, teaming up with friends for a fun exercise class or getting a group of mates together for a weekly five-a-side session is a great way to keep those health and fitness promises on track.
Here at Active Tameside we can help you out on many levels from our current 2 MONTHS FREE offer available on all fitness memberships, including iTRAIN – includes the use of our seven centres, five swimming pools, three thermal spas and over 230 weekly motivational exercise classes – to our happy-to-help fitness experts who offer advice, coaching and support.
We also offer a number of mindful and wellbeing classes such a yoga and Tai Chi.
We've also now launched our 10-week Couch to 5K running programme for beginners. To register ahead of the 30th January start date, email nayereh.kelly@activetameside.com.