YoungSoulz Dance Academy – Session Alterations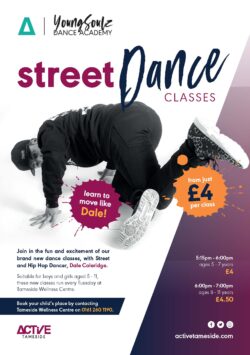 YoungSoulz Dance Academy, offers exciting street and hip-hop dance classes for children aged 5 – 14 years. There has been some slight alterations to session times, and for the older age group how you book onto the session.
YoungSoulz is no ordinary dance academy – it's run by Dale Coleridge who is a talented and experienced hip-hop dancer, teacher and performer from Manchester.
Dale graduated from university in 2016 with a BA (Hons) in Dance Theatre and Performance, and has been actively working in the community since. He has travelled, performed and competed in different countries, gaining vital experience to pass down to the next generation of dancers.
From performing at the Manchester Arena with famous musicians, to selling out shows in Reykjavik (Iceland), he's had a very successful career within the arts and wants to instil his passion for dance into the next generation.
Dale teaches YoungSoulz Dance Academy sessions on Tuesdays at Tameside Wellness Centre in Denton, for the following age groups:
·       5 – 7 years (5.15pm – 6pm)
·       8 – 11 years (6pm – 7pm)
·       12 – 14 years (these sessions are still available, please speak to centre for more information).
Sessions cost £4 for ages 5-7 years and £4.50 for ages 8-14 years. More info here.
Booking is available via our app or online.
Latest News
Related Events