Helping you to live your best life
About Us
Our mission
Active Tameside is dedicated to providing the local community with outstanding leisure, pastime and holistic wellbeing activities which generate both social and economic benefits for our users. We do this in a sustainable manner which is both inclusive and socially considered.
Our vision
To inspire the people of Tameside into living healthier, happier and more active lives as part of their local community.
Our values and ethos
We are a caring and supportive charity which reinvests 100% of any surplus back into our mission. Our passionate team seeks to deliver fun, exciting and accessible ways to be active in order that everyone can start life, live life and age well.
Our Annual Report video
Our Business Plan on a Page
Click here to download our 'Business Plan on a Page' and read about our mission, vision, values and objectives for 2021/22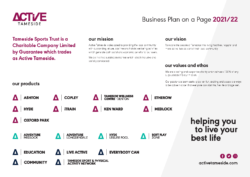 We are a proud member organisation of GM Active
Active Tameside is a proud member organisation of GM Active. GM Active makes it possible for communities across Greater Manchester to be physically active through bringing together all thirteen leisure organisations across the city region.

We are a member of Community Leisure UK
Community Leisure UK is the members' association that specialises in charitable trusts delivering public leisure and culture services across the UK.

We have a great Board of Trustees
Active Tameside is the operating name of Tameside Sports Trust, established in 1999. We have a Board of 11 voluntary Trustees or Directors; each Director provides unique expertise and experience to help run our business.
We Are A Charity
Active Tameside is a registered charity, which means our fundamental purpose is to deliver public benefit and address inequalities. In keeping with this, all our surplus revenue is reinvested into our services. We deliver a wide range of leisure facility and community-based services that generate participation in physical activity and sport, to improve health and wellbeing, predominantly in the Tameside area but also with our partners across Greater Manchester.
We provide high quality gyms, swimming pools and leisure attractions that are accessible to everyone. We currently operate eight fitness centres, including our state of the art 24/7 iTRAIN; five swimming pools and four leisure attractions – Adventure Longdendale, Adventure Medlock, Hyde Leisure Pool and Soft Play Zone.
Careers
We are looking for enthusiastic, passionate and friendly people to join our team! If that's you, join us and receive some great benefits. We offer a quality working environment and, in return, we ask for your commitment and best efforts, to ensure that we deliver the best service to our customers. We employ people who reflect the diverse community that we serve and we encourage applications from all.