Gymnastics
Gymnastics Lessons at Active Tameside
CUSTOMER NOTICE – GYMNASTICS LESSONS CANCELLATION
Following on from recent updates and advice regarding COVID-19, which can be found here; we have decided to take these further steps to reduce the risk to our customers, visitors and staff.
All gymnastics lessons run by Active Tameside will cease from Wednesday 18th March until further notice.
Gymnastics lesson customers who pay by direct debit can freeze for a maximum of three months with no freeze charge to be applied – at the end of the three months' freeze period, you will be automatically re-instated, pending the PHE advisory situation whereby if an extension to this freeze period is required, it will be applied.
If you are a gymnastics lesson customer who pays in 14-week blocks, you will be entitled to credits for the remaining lessons that you have already paid for.
Please note all gymnastic members will hold their place in their current class, day and time when freezing, wherever possible.
Thank you for your understanding.
Gymnastics makes a great spectator sport, but it makes an even better sport to participate in. Here at Active Tameside Gymnastics we have a range of classes – from pre-school to adult – to make sure everyone gets to enjoy the excitement and physical benefits of gymnastics.
Active Tameside provide three great gymnastics facilities: most of our sessions take place at Active Ken Ward but we also have sessions at Active Copley. The Active Tameside Gymnastics facility at Ken Ward has a fantastic range of equipment, including a large sprung floor, sprung tumble track, foam pit, beams, bars, vaulting stations and a great range of hand equipment.
At Active Tameside Gymnastics we host a varied range of sessions for all age groups throughout the week, including mixed, and girls and boys only sessions. All our sessions are listed below, click on each one to find out more.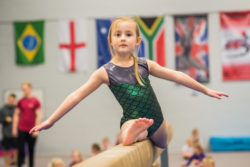 Our gymnastics sessions are only bookable by phone or in centre.
Active Ken Ward: 0161 366 5545, Active Copley: 0161 303 8118, Active Oxford Park: 0161 830 0508.