Inspiring people to live well and feel great
Swimming Lessons
From newborns to adults, our great range of classes cater for all ages and abilities because we want everyone to be safe, confident and happy in the water. Our Swim School pathway takes your child on a journey, from their first splash to developing confidence and competence in the water.
Supported by the STA, the Swim School pathway has been developed to ensure your child receives the best possible instruction, based on the swimming expertise of the STA. Adult swimmers will also be catered for by our qualified and encouraging staff.
Wally Walrus & Ducklings 0-5 years (adult and child)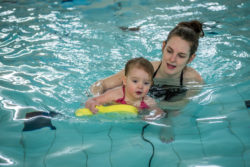 Wally Walrus and Ducklings sessions are a great way to encourage your baby or toddler to explore and enjoy the fun of learning to swim. With your help, your child will develop a range of skills, helping them to stay buoyant in the water.
These sessions will aid your child's development and confidence, both in and out of the water, whilst improving mobility and supporting their growth.
Little Ducks 3-4 years
Little Ducks is the next step on from Ducklings and is the platform for our Swim School. Instructors deliver the lessons from in the water to support children throughout and each class contains only 4 pupils, to provide high quality lessons.
Swim School 4+ years
Your child's progression through the Swim School programme will result in the development of a wide range of skills that, when put together, will create a competent, confident and safe swimmer who has the skills to then develop technique in a wide range of water-based sports.
Swim School programme benefits
• Free 'General Swim' sessions all year round. *Excludes Swim, Slide & Waves and Inflatable Fun sessions.
• Home Portal – log in online to see how your child is doing, check their progress, credits and the badge criteria.
• Online payment – easily set up online payments so you never run out of credits again.
• Online transfers – is it time for your child to move up? You can easily transfer them online.
• Crash courses – beginner and improver distances and challenge awards are just some of the crash courses we offer during school holidays.
To find out more and enrol your child on the programme, please contact one of our centres. Due to high demand, please be aware that there may be a waiting list on some of our more popular lesson times and venues. Alternatively, you can download the application form here then email it to: hello@activetameside.com
Rookie Lifeguard
The Rookie Lifeguard programme is the junior award scheme of the RLSS UK. For most children, Rookie Lifeguard will be the first opportunity to explore water safety and alternative safe aquatic play.
The Rookie skills make Rookies aware of how to take better care of themselves, their family and friends and give them the information they need to promote water safety in their day to day activities. The awards contain survival, rescue and sports skills as well as life support and water safety elements.
Rookie Lifeguard is primarily aimed at children aged 8-12 years, although most of the skills can be taught to people of all ages. Starting with Stage 1 of the Bronze Award and progressing through to Stage 3 of the Gold Award, Rookie Lifeguard begins at an ability level suitable for swimmers who have just learned to swim and wish to progresses to the next level of performing lifesaving tows.
Adults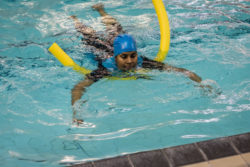 Swimming is a great skill to have at any age; improving fitness, strength and confidence, swimming is a sport with a long list of benefits. If you are aged 16 years or older, you can take advantage of the great swimming lessons here at Active Tameside.
Whether you are a non-swimmer, have a fear of the water or you're ready to improve a self-taught technique, we'll take you through the basics and teach you the strokes and techniques until you're confident and safe in the water.
These sessions are available at Active Ashton: 0161 330 1179, Active Denton: 0161 336 1900, Active Copley (from January 2019): 0161 303 8118 and Active Medlock (from January 2019): 0161 370 3070.