We're delighted to announce we've been selected as a finalist for two national ukactive Awards recognising our community impact throughout the challenge of the pandemic and our ongoing work in empowering people to live their best lives.
As a charitable leisure trust, we've been shortlisted in a new ukactive Award category for 2021, the 'Developing and Supporting Communities during Covid-19', as well as the 'Diversity and Inclusion' category.
Both nominations centre around our life-changing community services Everybody Can, Live Active and Active Education.
Our nomination for the 'Developing and Supporting Communities during Covid-19' Award is based on the significant targeting of outreach work for young people and adults with a disability and/or additional needs, those with long-term health conditions and in-school PE provision for vulnerable youngsters and the children of key workers.
Early on during the first wave of the pandemic Everybody Can – a service which breaks down the barriers to sport, exercise and fulfilling activities and opportunities to enable everybody to thrive and reach their potential – transformed its Active Medlock Centre overnight into a respite social care setting.
This allowed us to continue to safely deliver the vital services Everybody Can users and their families so desperately rely on.
Our Coaches in Schools programme, Active Education – which provides high quality physical education curriculum to primary schools borough-wide – immediately stepped up during the first UK lockdown to support over 40 local schools to deliver PE sessions for vulnerable youngsters and the children of key workers.
This was extended to include holiday provision and has now developed into the Fuel 4 Fun initiative which is tackling food poverty and social inequalities by supporting up to 10,000 families through thousands of free holiday camp places and healthy meal food boxes.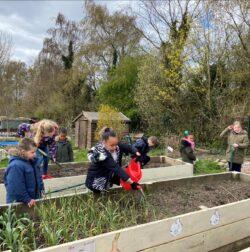 Our Live Active service – which helps makes physical activity easily accessible to those with long-term health conditions and older residents, particularly within hard-to-reach communities – quickly adapted its offering to ensure it could still reach its vulnerable service users.
In a bid to boost spirits and fitness levels our Live Active team provided online content and reached out to those who were socially isolated, making dozens of phone, zoom and skype calls every week and hand delivering printed materials to those who didn't have access to digital devices.
Live Active's 'Active Streets' team rallied residents with outdoor Tai Chi sessions in local neighbourhoods and staff continued to deliver the regular Health Walks – essential for maintaining fitness, social interaction and wellbeing for many vulnerable, older adults.
Breaking down barriers
The Everybody Can service is at the core of our selection as a finalist for the Diversity and Inclusion Award.
It delivers a year-round, fully accessible, and inclusive range of services around health and wellbeing and social development while providing a holistic approach to improving and enhancing the lives of over 1,200 young people and adults with a disability or additional needs.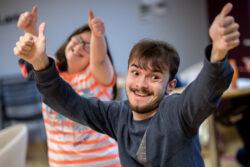 Delivering 15,000 sessions a year, it provides adult social care, outreach support, activities such as sport, swimming, cooking and horticulture and essential respite services for parents and carers.
As previous ukactive Award winners – receiving the 'Inclusion and Disability' award in 2019 and the 'Outstanding Organisation of the Year' accolade in 2018 – we're both proud and excited to reach the finals of this prestigious industry event yet again.
Shaun Higgins, Active Tameside's Director of Health & Social Outcomes said: "We are delighted to be finalists in two categories – one recognising the great work in partnership with TMBC, delivered to those most in need during the pandemic, and the recognising the work of our Everybody Can service which has just seen the disability gap decrease in Tameside in the latest Active Lives survey."
Active Tameside's Chief Executive Chris Rushton added: "These awards shine a light on best practice within the private, public and 'in-between' sectors across the UK and we're delighted to be finalists in the two categories that we entered.
"Inclusion and diversity are central to our Mission which was tested like never before during the pandemic. We stood strong however and supported many of the most vulnerable people within the community throughout.
"I'm proud of the compassion and resilience demonstrated by colleagues across our uniquely diverse business and our success in these awards is testament to their professionalism."
The winners of the ukactive Awards, which celebrate the very best of the physical activity sector, will be revealed at a ceremony later this year. We'll keep you posted!
How you help us to make a real difference
We're currently running borough-wide campaign throughout July and August to highlight our charitable status and the important role our members play in helping us to make a life-changing difference to thousands of lives every year.
The awareness initiative across our centres, family attractions, social media and billboard advertising serves to emphasise our 'here for Tameside, not for profit'.
As a registered charity we reinvest 100% of our profits back into providing high-quality, accessible-to-all facilities and far-reaching health and social care services.
Find out more about our charitable status here