We are beyond proud to be declared winners of the ukactive 'Diversity and Inclusion' Award for the second time running at this year's virtual event held earlier this month.
The 2021 ceremony, which recognised and celebrated the resilience and success of the physical activity sector both prior to and during the pandemic, was hosted by Paralympian, Baroness Tanni Grey-Thompson and Olympian and Sports Scientist Professor, Greg Whyte OBE on 12th August.
As a charitable trust operating community leisure centres and an extensive programme of health and social care intervention services in partnership with Tameside Council, we were shortlisted for two ukactive Awards earlier this summer.
After receiving our first 'Inclusion and Disability' award in 2019, the 2020 awards were postponed due to the Covid-19 pandemic. As a result, this year's finalists had a welcome opportunity to demonstrate their community contributions and positive impact over the past two years, both prior to and during the pandemic.
We entered the 'Diversity and Inclusion' category to achieve national recognition for our Everybody Can service and its significant impact across the entire Tameside community.
Everybody Can is a multi-award-winning inclusion and disability service which provides fully accessible and inclusive health, wellbeing and social development support to thousands of residents across the borough with varying needs and abilities.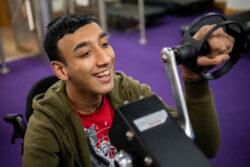 Running over 15,000 community-based sessions annually, attended by over 1,200 young people and adults with a disability or additional needs, Everybody Can provides adult social care, outreach support, activities such as sport, swimming, cooking and horticulture and essential respite services for parents and carers.
Shortlisted alongside four other finalists we were invited to showcase the exceptional delivery of the health and social outcomes achieved to a panel of three judges from the event's headline sponsors, Active IQ.
Dan Higgins, manager of the Everybody Can service, was joined by ISCAN's Lynne Barnett and Elaine Healey, a trustee of the Our Kids Eyes (OKE) charity, to present to the judging panel. Together they represented the dedicated teams and partnerships behind the ongoing delivery of exceptional health and wellbeing provision to the Tameside community.
Dan Higgins said: "I am overjoyed and full of pride to retain this award, although more importantly, I want to show my appreciation and gratitude to the teams who are the heartbeat of our amazing organisation. This really highlights the journey we have been on and will continue to be on as an organisation.
"Each department is as important as the other, with our commercial and operational functions providing the platform to empower amazing people in delivering amazing services, achieving amazing outcomes. It's a real embodiment of removing barriers to give everyone the opportunity to reach their potential.
"This showcases how integration is key and Active Tameside continues to do that, emphatically utilising conventional leisure services as an engagement tool.
"A special mention goes to our partners too, placing faith in us to produce the results we do. Likewise, to our clients, who without them there would be no service. They are all unique in their own way and meet every day with a smile, despite the complexities they are faced with.
"The last 18 months have been tough for us all but it's recognition like this that makes it all worthwhile.
"It's an exciting time to be part of this incredible organisation and there's more to come from us as we move forward to continue to be a key community asset, assisting the people of Tameside, allowing them to live their best life."
Councillor Eleanor Wills, Tameside Council's Executive Member of Health, Social Care & Population Health said: "This is a service that puts people first. Active Tameside really embraces each and every resident like a friend, like a family member. They put the community at the heart of their service, really understanding people's individual needs and challenging themselves to learn new ways of working.
"What this service offers to Tameside residents is beyond words. It changes lives for the better, it impacts on families as well as individuals."
Tameside Council's Executive Member Cllr Allison Gwynne, who is lead for Active Tameside, said: "We have a long-standing relationship with Active Tameside, who are our trusted partners for sports and leisure delivery across the borough and we've worked closely together to provide state of the art sports and leisure facilities for local residents.
"However, what this award clearly showcases is that Active Tameside delivers much more than sports and gyms. It is dedicated to helping all residents to improve their lives, health and wellbeing.
"This is much deserved recognition for this brilliant work, which is making a difference, and my thanks goes to everyone involved."
OKE's Elaine Healey added: "Active Tameside is constantly evolving around the needs of our community regardless of age or ability. The most vulnerable people in our community have a strong voice, they are valued, listened to and are able to live their best life thanks to the varied and inclusive activities that Active Tameside have on offer."
Chair of Active Tameside, Councillor Denise Ward, said the award was a truly tremendous achievement.
"I am proud beyond words that Active Tameside has won this award for the second consecutive year – an achievement without precedent as far as I'm aware and one which really does show that inclusion and diversity is in our DNA.
"We constantly strive to optimise access for the community as a whole and seek to diminish health inequalities wherever they are apparent. This award reflects the combined efforts of the team as a whole during the course of the pandemic where unprecedented challenges were met with both resilience and compassion."
Active Tameside was also nominated as a finalist for the 'Developing and Supporting Communities during Covid-19' Award – a brand new category for 2021.
The entry was based on the combined efforts of the Everybody Can, Active Education and Live Active services which collectively deliver outreach support to young people and adults with a disability and/or additional needs, those with long-term health conditions and in-school PE provision for vulnerable youngsters and the children of key workers.
Shaun Higgins, Active Tameside's Director of Health & Social Outcomes said: "We were delighted to be finalists in this brand-new category and achieve recognition for the great work in partnership with TMBC which delivered support to those most in need during the pandemic."
"The success at the ukactive Awards further contributes to Active Tameside's position in the community as a valuable charitable to ensuring the best possible health and wellbeing facilities, services and support for the entire community."
As a registered charity Active Tameside reinvests 100% of its profits back into providing high-quality, accessible-to-all facilities and its far-reaching health and social care services.
Find out more about our charitable status here