= 900, mobileScrolled = window.scrollY >= 50" :class="mobileMenuOpen ? 'overflow-hidden' : ''">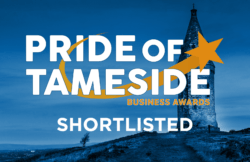 Active Tameside has been shortlisted for two Pride of Tameside Business Awards;
Tourism & Leisure or Sport Business of the Year
Health & Care Business of the Year
The Pride of Tameside Business Awards celebrates the outstanding work of businesses from different sectors and inspirational individuals from across the region. There are 23 categories in total, including awards for food and drink, health, digital, tourism and e-commerce businesses.
Active Tameside is leading in the transformation of conventional support services, leisure opportunities and physical activity into a vehicle to address the inactivity in Tameside, through co-production and engagement with neighbourhood and stakeholder partners, to meet the needs of all Tameside residents through their life course.
Shaun Higgins, Director of Health & Social Outcomes for Active Tameside, said: "'We have gone from just being a standard leisure provider, to a health and social care provider that delivers opportunities to Tameside residents, through the life course."
Active Tameside enjoyed success earlier this year, having won the 'Inclusion & Disability Award' at the ukactive Awards. Last year, the organisation was awarded Pride of Tameside 'Tourism & Leisure Business of the Year', so fingers are crossed for further success at this year's Business Awards.
This year, Active Tameside is proud to be sponsoring the 'Apprentice of the Year' award and would like to wish good luck and an enjoyable evening to all nominees.
The winners will be revealed at the awards ceremony, which will take place on Thursday 24th October 2019 at Dukinfield Town Hall.

Your card, your choice. Choice is a great thing in life, so you've come to the right place. With so many ways to spend your Active Choice Card you'll never be stuck for fun family times, fitness and wellbeing times, Fuel cafes catch-up times and for those activity must-haves (forgotten the goggles, stylish swimwear) you can also spend it at our in-centre stores.