Little Bouncers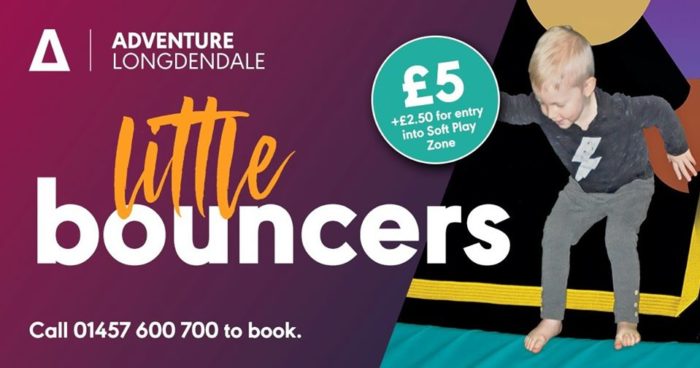 Little Bouncers sessions, which take place at Adventure Longdendale, are fun trampoline sessions (lasting 1 hour) for children under 5 and their parents or guardians.
Sessions cost only £5 (plus an initial cost of £1.50 for trampoline socks – or you can bring your own).
Each session is limited to 25 places, so there's plenty of space to bounce around and have fun.
Please note that parents or guardians will be responsible for their children throughout the sessions.
For an additional £2.50, little ones can also access the Soft Play Zone before or after Little Bouncers.
TERM TIME (excluding bank holidays)
Mondays 10am – 11am
Fridays 1:30pm – 2:30pm
Saturdays 9am – 10am
Sundays 10am – 11am
SCHOOL HOLIDAYS (excluding bank holidays)
Mondays 10am – 11am
Fridays 10am – 11am
Saturdays 9am – 10am
Sundays 10am – 11am