Outreach Targeted Support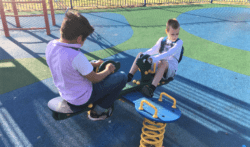 Outreach Targeted Support allows us to support some of the most complex and challenging children and young people within the Tameside borough.
Often this support is needed to prevent the family unit from hitting crisis point. These individuals are more likely to be highlighted as edge of care and/or are unable to integrate within their local community and socialise with peers.
A service commissioned by ISCAN (Integrated Service for Children with Additional Needs), we aim to develop families and young people holistically. A person-centered allows a structured plan and progression that will enable the young person to be integrated into their local community, interacting with peers.
The provision not only provides families most in need of respite, it also allows these children to stay within the borough, as previously it was being outsourced in order to facilitate.
In addition, specific barriers are highlighted beforehand for the people to overcome (appropriate behaviour in public spaces with a detailed individual plan in place, for instance) and bespoke activities are created to provide the opportunity for new skills to be learnt and experiences to be had, whilst combating previous issues.
For more information, email: dan.higgins@activetameside.com or call: 07833 468 205.
Short Breaks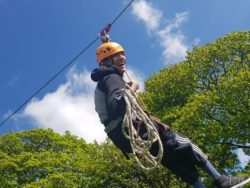 Overnight stays at various locations in the country, allowing families the respite they are in need of, whilst also providing a valuable and exciting experience for the young people. With up to four short break trips organised per year, all ages from 5 years upwards gain access to a variety of adventurous activities including; abseiling, kayaking, caving, gorge walking and raft building.
However, more important to note is the social inclusion aspect of building relationships with peers and gaining independence skills through various activities, such as making their own beds, packing their suitcases and washing their pots after meals.
For more information, email: dan.higgins@activetameside.com or call: 07833 468 205.
Disability Holiday Camps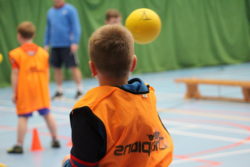 We offer a half-term holiday respite activity programme for children aged 5-16 years. The sessions are OFSTED registered and provide opportunities for children to spend time away from their families during the school holidays, developing new friendships, taking part in new experiences and having fun participating in positive activities.
Our camps provide activities for all children with a disability, ranging from sports, dance and cooking to music, cycling and sensory play.
For more information, email: dan.higgins@activetameside.com or call: 07833 468 205.
Active Neighbourhoods

This intervention is universal and will provide a network of accessible sport and physical activity sessions for all young people aged 6-13 or 14-19 years old in NC neighbourhoods, over 12 week periods. Young people will be able to participate in a variety of activities including football, dance, dodge ball and multi-skilled activities. A sports leadership award can also be delivered.
All of the sessions will be delivered by qualified, highly experienced and competent sports coaches. The sessions can run between Monday-Friday, 5pm-8pm (two hours per session) in consultation with NC Neighbourhood Development Teams and take place in a variety of community venues and spaces within NC neighbourhoods or Academies. All sessions will be designed to overcome the barriers that might normally prevent young people participating.
The offer will involve a broad range of activities and will serve to counteract ASB issues supporting the Active Challenge intervention. Using sport and physical activity as the hook and medium for positive engagement, sessions will empower young people to develop themselves to become fully rounded individuals with improved health, wellbeing and aspirations.
For more information, email: helen.wilson@activetameside.com.
Care to Success

The Care to Success programme is all about developing young adults' life skills, development, knowledge, experience in work, social interaction and ability to live independently, as we support them in the transition from care to employment sustainability.
The programme works with young people to achieve the targets and goals they are aiming for. The Care to Success folder that the young people work through helps them to understand basic life skills, such as opening a bank account, buying food, paying bills and all of the things that most people do on a daily basis.
The pathway of the programme offers great opportunities in a work placement where they receive training, learn new skills, build on original skills and gain valuable work experience. From start to finish, the Care to Success pathway is to get them from a work placement to full time paid employment, with the right qualifications achieved along the way, opening new opportunities in the employment industry.
For more information, email: dan.higgins@activetameside.com or call: 07833 468 205.
Transition Camps

Our Transition Camps offer new students a successful transition from KS2, in year 6, to KS3, in year 7. We run a well-established transition programme for future year 7 students, developed through strong links with feeder primaries and their chosen secondary school.
The program effectively helps new students develop confidence and reassurance, and build new friendships before the start of the new term. Activities include multi-sports, swimming, life skills, indoor climbing and trampolining.
For more information, email: helen.wilson@activetameside.com.