Active Tameside refuel their Great Christmas Takeaway to dish up festive cheer for families in need
Once again we're dishing up delicious helpings of Christmas cheer by embarking on a huge operation to ensure hot meals and festive spirit get to those who need it most.
Following on from last year's heart-warmingly successful The Great Christmas Takeaway, which saw 750 hot meals, selection boxes and children's gifts delivered to families around the borough by an army of Active Tameside volunteers, efforts are well-underway to complete this year's mission.
Renamed 'The Great Fuel 4 Fun Christmas Takeaway' it will be rolled out as part of our Fuel 4 Fun initiative which began in February this year to tackle food poverty and social inequalities for thousands of young people and their families across Tameside.
By the end of the Christmas school holidays the scheme will have reached 9,147 Tameside families – those with children aged five to 13 in receipt of free school meals and under 18s with special educational needs and disabilities – through its school holiday camps and provided 45,735 cook-at-home food box meals.
Another 750 Christmas Takeaway hot meals – chicken curry and rice, beef mince hash, veggie pasta and vegan options – will be whipped up in the Active Community Café at The Together Centre, in Dukinfield.
250 meals a day will be prepared over three days using fresh produce harvested from our Community Allotment, which is lovingly grown and tended by Everybody Can's young people and Adult Day Service clients, and donations from charitable food distributors FareShare.
They will then be packed into vehicles ready to land on doorsteps – along with selection boxes – thanks to a team of jolly festive jumper-wearing volunteers on 20th, 21st and 22nd December who will be delivering to various towns each night.
Around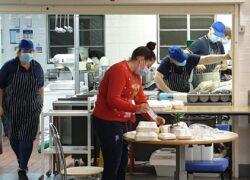 22 volunteers, including kitchen teams, packers, drivers and escorts are all involved in the festive effort along with Everybody Can service users and all preparation and delivery will be conducted under the recommended covid safety measures.
Active Tameside's Head of Health and Social Outcomes Dan Higgins is yet again overseeing the project.
"The last 12 months have again, been, somewhat turbulent with specific reference to the pandemic. However, despite the struggles and everchanging, fast paced world of Health and Social Care, I am extremely proud of the outcomes we have been able to achieve – embodied greatly by our Fuel 4 Fun initiative which has proved to be a real success," said Dan.
"Therefore, building on that and following on from the impact and fantastic feedback we received last year we want to do our bit to ensure there is at least one hot meal this Christmas for those who need it most," said Dan.
"Again, we were overwhelmed with responses after inviting people to sign up and refer someone in need for our Great Fuel 4 Fun Christmas Takeaway.
"And again, we have an amazing team of willing volunteers who are generously donating their time to make sure it all runs smoothly.
"As a charitable trust, Active Tameside is there to make a difference and to support the Tameside community when people need it most. We feel proud to be part of something so positive and we hope it brings some seasonal cheer at what can be a difficult time of year.
"I'd like to thank everyone for their efforts in bringing this together, from those taking good care of the wonderful produce grown on our allotments to those lovingly preparing the meals and the volunteers packing and delivering. We couldn't do it without them."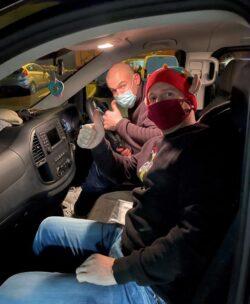 Over the Christmas holidays the Fuel 4 Fun initiative will again be delivering a range of camps and sessions across its centres – Active Copley, Active Ken Ward, Active Hyde, Tameside Wellness Centre, Adventure Medlock and Adventure Longdendale – alongside holiday camps in several schools, sports clubs and youth projects.
The camps will welcome 1,340 children and young people – including 150 SEND youngsters – to enjoy activities including rock climbing, high ropes, swimming, animal encounters, African drumming, gymnastics, arts and crafts, sports and more.
They will have a hot meal while in camp and receive a food hamper containing ingredients to a make five festive healthy and nutritious meals plus an activity bag to keep them active throughout the holiday.
Another 400 families will receive food hampers.
Lorraine Hopkins, Tameside Council's Head of Service – Early Help, Neighbours and Early Years Service said: "The HAF (Holiday Activity and Food Funding) Fuel 4 Fun project has been a great success in Tameside delivered through a partnership with Active Tameside, Voluntary, Nutrition teams and Local Authority services.
"There has been a host of fully inclusive and accessible holiday activities on offer across the holiday periods providing a free safe, stimulating and healthy environment in which children can participate in.
"This has been a challenging year for families across Tameside and this project funded from the Department for Work and Pensions, has supported families on income based free school meals to access quality activities and nutritional recipes and meals across key holiday periods."
Listen to Dan Higgins, Active Tameside's Head of Health and Social Outcomes who is overseeing the Great Fuel 4 Fun Christmas Takeaway being interviewed on BBC Radio Manchester:
Latest News
Related Events