For some people, winter forecasts dread, for others it's a time to get cosy, embrace all that the season has to offer and crank up the crumble and hearty stew making operation.
Despite the gloom of a seemingly endless run of shorter days and cold, wet weather, there's usually cheer to be found in flinging ourselves in the festive spirit.
Normally, there's hardly any time at all to feel down in the dumps in the run up to Christmas.
And come the new year, it's a time to set those inspiring fitness goals and make exciting plans for the coming months.
But the pandemic has undoubtably put a rather different spin on things this year.
The prospect of enduring more lockdowns, a 'Covid Christmas' and the uncertainty that lies ahead is bound to affect our outlook.
However, one thing we can be sure of, with a positive attitude and determination, not only can we make the best of it, we can make some real life-changing transformations too.
In fact, there's never been more motivation to do all we can to take better care of our health and wellbeing.
After all, necessity is the mother of invention!
With the firm belief we really can emerge fitter, healthier, happier and recharged come the spring, as always, Active Tameside is here to help you achieve it.
Better health this winter and beyond
While we're all cautiously eyeing up this winter with a different slant, there are always little things we can do to prepare and care for ourselves better to help fend off ailments such as colds and flu and keep our moods buoyed.
These tips may focus on the basics, but they really are fundamental to helping us through the frosty few months ahead.
Wrap up warm – When you're going into the great outdoors layer up and wear a hat, scarf and gloves, when indoors pop on a pair of cosy socks and slippers. It's recommended you keep your living room heated to around 18-21C and the rest of the home at around 16C.1
Eat healthily – Be sure to include plenty of fruit and veg and at least one hot meal a day.2 According to the British Nutrition Foundation3 there is an army of 'winter-warrior nutrients' to help us battle infections and illnesses including vitamin A (found in carrots, cheese, dark green leafy veg), vitamin B6 (found in poultry, fish, egg yolk, soya beans, bananas and avocado) and vitamin C (found in citrus fruits, kiwis, green veg, peppers and tomatoes). Soups and stews are a delicious way to fend off the cold weather and starting the day with a bowl of porridge sprinkled with fruit such as bananas and berries, seeds and nuts will certainly keep you glowing.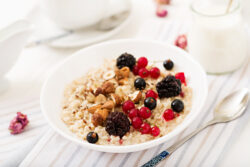 Keep active as much as possible – It not only helps you to fire-up your circulation and keep warm, it's also immensely beneficial for your wellbeing. Exercise is renowned for its year-round benefits in reducing the risk of major illnesses and boosts mood, self-esteem, energy, sleep quality and helps to reduce stress levels. From running or walking up and down the stairs to a fun-filled family outing to the park or a hike in the hills, we really can't recommend exercise highly enough. Whatever restrictions are in place, we're here for you, be it online or in-centre. You'll find a large library of home workouts for all abilities here and on our free to download Active Tameside app. Members can access Les Mills virtual classes via the app for just £5 per month – free for Active Premier members – find out more here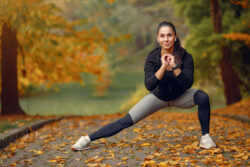 Get a good night's sleep – Easier said than done, we hear you cry! For some a decent slumber can be tough at the best of times but the pandemic has created a whole host of new sleeping challenges. Disruptions to daily lives and anxiety and worries caused by coronavirus are keeping more and more people up at night.4 Regular, good quality sleep gives you energy, boosts your immune system and helps your body recover from illness.5 It helps your brain to recover and revive and allows your mind to unwind and destress, 5 so it's absolutely essential for both physical health and wellbeing.5  And, did you know sleeping less – under seven hours as opposed to nine hours or more – can also make you gain weight?5 It's believed sleep-deprived people have lower levels of leptin – the chemical that makes you feel full – and more ghrelin – the hunger stimulating hormone.5 If you're struggling with your sleep the NHS recommend some simple techniques to help you wind down and prepare for bed.5  Start by creating a relaxing environment, removing distractions like phones, computers and the TV. Read a book or listen to some relaxing music to help you unwind. Maybe try a relaxing exercise such as yoga. Avoid caffeine, alcohol, nicotine and large meals too close to bedtime. The Sleep Foundation4 advises bed should be reserved for sleep so if you're working from home make sure you're not 'working from bed'.
A vitamin vital to our health and wellbeing
A lot of us have been stuck indoors much more since the dawn of the pandemic and that's certainly set to continue to be an issue in the current climate.
Being out and about is good for our wellbeing and also vital when it comes to that all essential good health element, vitamin D.
Not just great for keeping bones, teeth and muscles strong, vitamin D is believed to have a real impact on our immunity, helping us fight off infections and viruses.6
Inadequate levels of vitamin D are also thought to be linked to mental health conditions such as low mood and depression.7
Being overweight puts people at risk of deficiency as vitamin D can be absorbed into fat beneath the skin meaning it may not be available for use elsewhere in the body.7
As many as one in five adults and one in six children across the UK are said to have levels which are too low.6
With sunlight the best natural source7, we have to find other ways to keep it topped up during these sun-starved winter months – although it's still hugely important to get outdoors in natural daylight as much as possible.
Vitamin D is found in foods such as oily fish – salmon, sardines, mackerel – red meat, and eggs fortified cereals, most fat spreads and some plant-based milk alternatives.7
It's usually only found in small amounts in food so you may also need to take supplements to boost your levels.7
Getting through it – together
Although the next few months will be more of a marathon than a 5k, we're focussing on helping our Tameside community to cross the spring finishing line stronger than ever.
According to a BBC article on those who've already lived through a winter lockdown elsewhere in the world, it's about mindset, discovering new things to love about life, making the most of what's available and being kinder to ourselves and each other.
So, let's take this time to re-energise and reflect.
While we may have less to work with, let's strive to achieve more, focus on what's important and find positivity in the face of adversity.
Throughout the months ahead we'll build on the fantastic support we've seen since our safely phased reopening began – over 150,000 bookings since the end of July!
And thanks to the huge response we saw during the first lockdown, we'll continue to motivate and inspire your home-based health and fitness across our social media channels, offering tips and advice, live classes, quizzes and a host of activities to help you live you best life during these challenging times.
Our very best wishes for an active, healthy and happy winter.
The Active Tameside Team
References:
7 http://wlmht.nhs.uk/wp-content/uploads/2013/01/Vitamin-D-leaflet-A5-8pp.pdf