= 900, mobileScrolled = window.scrollY >= 50" :class="mobileMenuOpen ? 'overflow-hidden' : ''">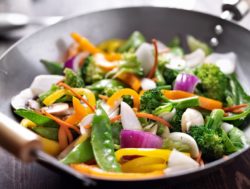 Active Tameside is working in partnership with Tameside and Glossop NHS Integrated Care Trust's Children's Nutrition Team to deliver a Healthy Cooking Programme in the local Tameside primary schools that are part of its Active Education programme. The aim of the programme is to teach and help families with basic food preparation and learning to cook healthy meals. The programme will be delivered to ten families, with Key Stage 2 children, in 25 Tameside schools, from September 2019 until July 2020.
The Healthy Cooking Programme is a 3-week programme designed to inspire and develop the overall lifestyle of participating families. With record levels of overweight/obese children, the programme is designed to encourage children to make healthy choices from an early age, by supporting families to develop their skills and confidence when preparing and cooking meals.
The Children's Nutrition Team offers 'Ready, Steady, Cook and Eat' courses to all Tameside schools and other community venues throughout Tameside. During these sessions, families take part in cooking a nutritious, freshly prepared family meal and dessert and also included is a short, informative nutrition session while the food cooks. Finally, families will all eat together, clear up and choose recipes for the following week.
The courses have been running for over eight years and aim to teach families basic cooking skills as well as giving them confidence to cook meals from scratch. Advice is also offered on how to achieve a balanced diet and food is provided for families free of charge.
Give this recipe a go
Quorn and Vegetable Stir Fry (Quorn can be replaced with tofu, halloumi or meat)
Preparation time: 15 mins
Cooking time: 15 mins
Serves 4
Ingredients:
300g Quorn pieces
2 tablespoons of oil
2 carrots
2 peppers
125g mushrooms
1 leek
4 spring onions
125g broccoli
125g mange tout
Glaze:
2 tablespoons of hoi sin sauce
2 tablespoons soy sauce
2 tablespoons of vinegar (try sherry or cider vinegar)
1 tablespoon of chilli sauce
1 tablespoon of honey
2 teaspoons of oil (try sesame)
Method:
Chop the onion and leek, peel and grate the carrot, halve the mushrooms, cut the broccoli into small florets and cut the peppers into strips.
Combine all the glaze ingredients in a bowl and mix well
Heat the oil in a wok, when hot add the Quorn and part of the glaze and stir fry until almost cooked.
Add the carrots, peppers, broccoli and mushrooms, stir-fry for 3 minutes, add the leek, spring onion and mange tout and stir-fry for 2 more minutes
Stir 3 tablespoons of water into the glaze and add to the pan. Cook for a further 3 minutes until all the vegetables are tender
Great served with noodles!
Find out more about Active Tameside's Active Education service here.

Your card, your choice. Choice is a great thing in life, so you've come to the right place. With so many ways to spend your Active Choice Card you'll never be stuck for fun family times, fitness and wellbeing times, Fuel cafes catch-up times and for those activity must-haves (forgotten the goggles, stylish swimwear) you can also spend it at our in-centre stores.