= 900, mobileScrolled = window.scrollY >= 50" :class="mobileMenuOpen ? 'overflow-hidden' : ''">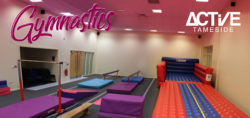 The new upstairs gymnastics room at Active Ken Ward is now open. Equipped with a brand new air track, catcher junior high bar, vaulting blocks and much more, the room is perfect for under 8's kids gymnastics sessions. The air track is also available for older children to enjoy.
The refurbishment of Active Ken Ward's old boxing gym took place following kids gymnastics classes, in the downstairs rooms at the centre, reaching peak capacity. The new room has enabled the centre to put on an extra 21 gymnastics lessons, for a variety of ages ranging from 2-8 years allowing for childrens & toddler gymnastics classes.
Children who attend the new sessions will be able to achieve British Gymnastics badges, ranging from fundamentals, to pre-school ABC's and all the way through the proficiency badges. After achieving all of their proficiency badges, or if they reach 9 years of age, children will be transferred on to a different session based in the main downstairs gymnastics hall.
In the downstairs sessions, children can continue their gymnastics experience by moving onto bronze, silver and gold badges then eventually move onto a competition group, where they can compete outside of the club in UK gymnastics competitions, against other clubs.
Call to find out more, check availability and book: 0161 366 5545.
View our gymnastics timetable here, to see the full range of lessons available.

Your card, your choice. Choice is a great thing in life, so you've come to the right place. With so many ways to spend your Active Choice Card you'll never be stuck for fun family times, fitness and wellbeing times, Fuel cafes catch-up times and for those activity must-haves (forgotten the goggles, stylish swimwear) you can also spend it at our in-centre stores.