= 900, mobileScrolled = window.scrollY >= 50" :class="mobileMenuOpen ? 'overflow-hidden' : ''">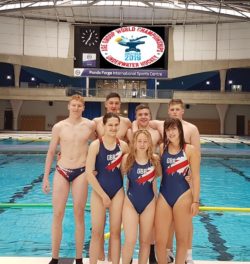 Seven players have been selected from Tameside's only Underwater Hockey club (UWH), Xarifa, to represent Team GB at the Underwater Hockey Age Group World Championships in Sheffield in August.
At the last competition in Hobart, Tasmania, the GB Under-19 Men's team came home with silver medals. This year, 31 teams from 13 countries have entered in 4 categories; Under-19 and Under-24 Men's & Women's teams.
Team GB players are from clubs nationwide, from the Orkney Islands to Plymouth, and many places between. This year, Team GB are hoping to take advantage of playing at home.
The seven players from Tameside's Xarifa club are:
Zoe Higham (20), from Denton – has played for GB Under-19 Women previously, now plays for the Under-24 Women.
Harry Thompson (18), from Dukinfield – was one of the silver medallists in Hobart, has been playing since he was 7.
George Lythe (18), from Dukinfield – has been playing since he was 10 and also a silver medallist from the 2017 competition.
Charlie Brincat (18), from Stalybridge – studies at Loreto College in Manchester, has been playing for 3 years.
Declan McNulty (17), from Hale in Liverpool – travels by far the furthest to be a member of the Tameside club.
Jake Charnock (17), from Hyde – has only been playing a few years, but has worked hard to be selected.
Megan Callaghan (16), from Stalybridge – currently studying for her GCSEs at Stockport Grammar School.
The Championships will be streamed live via You Tube.
Phil Thompson, Under-24 Assistant Coach and father of Harry, said: "Many of the Under-24 Men's team are Under-19 silver medallists from the last competition, so we're expecting great things of them!"
For more information about Xarifa, visit their Facebook page here.

Your card, your choice. Choice is a great thing in life, so you've come to the right place. With so many ways to spend your Active Choice Card you'll never be stuck for fun family times, fitness and wellbeing times, Fuel cafes catch-up times and for those activity must-haves (forgotten the goggles, stylish swimwear) you can also spend it at our in-centre stores.