= 900, mobileScrolled = window.scrollY >= 50" :class="mobileMenuOpen ? 'overflow-hidden' : ''">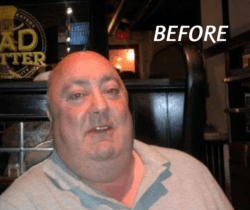 Before joining Active Tameside, Tony Berry's weight peaked at 16 stone. He had type 2 diabetes, high blood pressure, high cholesterol and acid reflux issues, which he was on medication for.
Twelve months ago, Tony could barely jog around the car park, but since building his fitness up through attending Active Copley and iTRAIN, he now takes part in 5k runs, walking football and a wide range of fitness classes, including BODYPUMP and BODYCOMBAT. Tony has turned his life around and is now close to his incredible weight loss target of 5 stone. He has also managed to reverse his diabetes and has stopped taking medication altogether.
If you're looking for some motivation to achieve your fitness goals this year, read Tony's inspiring story below.
What are the biggest benefits you have experienced since improving your fitness over the past year?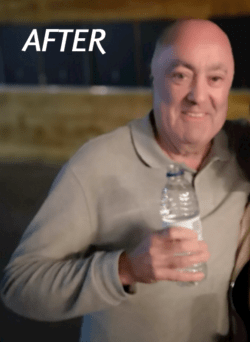 When I started at Active Copley I was around 16 stone and was classed as obese. My lifestyle was a mess and I was basically heading for an early grave, in all seriousness. I had been diagnosed with type 2 diabetes and extremely high blood pressure and I was taking various medication.
In December 2017 I decided that enough was enough. I stopped drinking and, together with taking up various classes at Active Copley, my weight had dropped to 14 stone 3lbs by March 2018.
The main benefits are that I have reversed my diabetes and I am now classed as non-diabetic. My blood pressure and cholesterol have also dropped dramatically and my acid reflux issues no longer exist. I am now on no medication whatsoever and, on the advice of my doctor, I returned all my medication to the chemist.
What do you like most about Active Tameside?
The staff at Active Copley have all been brilliant and have supported me in different ways. I now do various classes and my overall fitness has greatly improved. I have attended Boxercise Bootcamp classes at iTRAIN and Chris McBain has also been a great help there.
Have you made any friends through Active Tameside?
Attending classes has opened up new perspectives and I have met numerous new friends. The friends that I made before joining the gym have also stood by me throughout these last 12 months.
What advice would you give to anyone who is starting out on their fitness journey and thinking about joining the gym but might be nervous and self-conscious?
I can fully understand why some people are wary of joining. When I started doing classes at Active Copley, sometimes I was the only male in the group and I thought the women in the classes were thinking I had joined a dating site by mistake. However, I spoke to the Instructor who told me not to think like that and basically told me to carry on. The rest is now history and I wish I had done this years ago.
What are your fitness goals for 2019?
For 2019 I would like to maintain my weight, increase my running distance and also try other classes at Active Tameside.
Start your fitness journey with us today and achieve your goals, just like Tony! We'll also give you 2 MONTHS FREE and NO JOINING FEE! Find out more and sign up now.

Your card, your choice. Choice is a great thing in life, so you've come to the right place. With so many ways to spend your Active Choice Card you'll never be stuck for fun family times, fitness and wellbeing times, Fuel cafes catch-up times and for those activity must-haves (forgotten the goggles, stylish swimwear) you can also spend it at our in-centre stores.