Gymnastics Holiday Camps
Have fun and learn with our fantastic Gymnastics Holiday Camps!
Led by our qualified coaches, Gymnastics Holiday Camps offer fun and structured sessions using bars, beams, a sprung floor, vault, trampoline and rings to teach balance, flexibility and confidence.
Camps are suitable for children in full time education (5-16 years of age), cost £20.00 per child per day session and are held in our dedicated gymnastics centre at Active Ken Ward in Hattersley. They are open to all, whether already a gymnast or brand new to the sport.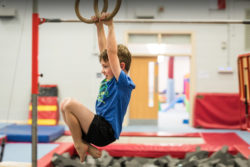 Gymnastics Camps at Active Ken Ward
Monday 28th, Wednesday 30th & Thursday 31st October: 9am-3pm (children to bring their own lunch and snacks).

For more information or to book, call: 0161 366 5545 (Active Ken Ward).