Gymnastics and Dance Holiday Camps
Have fun and learn with our fantastic Gymnastics Holiday Camps!
Led by our qualified coaches, Gymnastics Holiday Camps offer fun and structured sessions using bars, beams, a sprung floor, vault, trampoline and rings to teach balance, flexibility and confidence.
Camps are suitable for children in full time education (5-16 years of age) at Active Ken Ward or ages 5-7 years at Oxford Park and are open to all, whether already a gymnast or brand new to the sport. There will be bronze, silver and gold rosettes* for children to work towards if they attend all of the sessions. The rosettes will be achievable for everyone.
The camps are £7.50 per person per session, or you can get 2 sessions for £13.00! They are held in our dedicated gymnastics centre at Active Ken Ward in Hattersley or at Active Oxford Park in Ashton.
*Rosette awards will have an additional cost.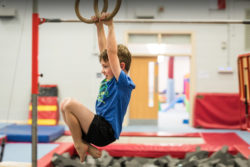 Gymnastics and Dance camps at Active Ken Ward
Monday 29th October: Gymnastics 9am-10:30am, Dance 10:30am-12pm

Tuesday 30th October: Gymnastics 9am-10:30am, Dance 10:30am-12pm
For more information or to book, call: 0161 366 5545 (Active Ken Ward) or 0161 830 0508 (Active Oxford Park).