= 900, mobileScrolled = window.scrollY >= 50" :class="mobileMenuOpen ? 'overflow-hidden' : ''">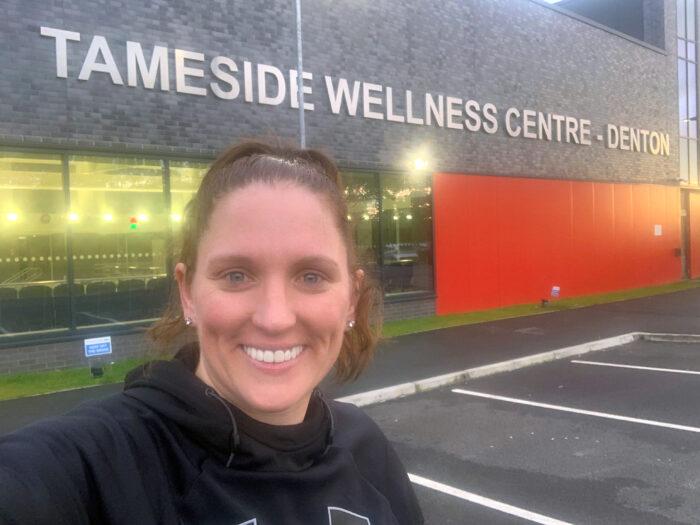 Last week felt so exciting, as we were able to get back to group fitness classes for the first time in many months.
I couldn't wait to get back to exercising with others in real life instead of virtually or training alone – I'd really missed it, and the week didn't disappoint!
I managed to use the gym and attend classes at Tameside Wellness Centre in Denton, Active Copley and Active Hyde (I'll have been to them all by the end of next week!).
The atmosphere was brilliant at every centre, with welcoming staff and instructors who were obviously buzzing to have everyone back. Most importantly, there were keen and enthusiastic keep-fitters enjoying being active, as well as catching up with gym buddies and friends again. Everyone was so friendly and each time I left feeling lifted and energised!
The return to the buzz of the gym or a class, the music, the sounds and the whole atmosphere generated by everyone working hard towards their own goals was great to see in itself, but even better was seeing people of all age ranges, backgrounds, abilities and fitness levels enjoying the centres.
We each have a different reason to be in the gym; some want to keep fit, others want to lose weight, some find it helps their mental health and some have clearly been dragged reluctantly by a very persuasive friend. For me, there are many reasons to exercise, having just retired from professional sport due to injury in the last 6 months, my reasons are completely different to what they've been my whole life, so it's a brand new chapter for me in terms of being active and what it means.
Either way, I'm delighted to see what a difference the Active Tameside services make to our community. I get fed up with reading articles about how inactive our borough is, and whilst this needs addressing, it's also important to highlight the many facilities we have and the opportunities to keep fit which so many Tameside residents regularly take part in.
I'm looking forward to taking part in many more classes, gym sessions and meeting more fellow Active Tamesiders in the coming weeks! I'm proud to see how everyone has come through all these months of lockdown and that they're getting straight back into activity. As an Active Champion, I hope to encourage as many people as possible to stay active! Keep it up everyone, you're doing great!
Find out more about Stacey and her incredible sporting achievements at her website here.

Your card, your choice. Choice is a great thing in life, so you've come to the right place. With so many ways to spend your Active Choice Card you'll never be stuck for fun family times, fitness and wellbeing times, Fuel cafes catch-up times and for those activity must-haves (forgotten the goggles, stylish swimwear) you can also spend it at our in-centre stores.