Lockdown has changed all our lives in one way or another.
We've had to adapt, make do and amend our former habits and routines to work around the steely grip coronavirus currently has on us and our communities.
But what if the pandemic suddenly snatched away a crucial part of your life and left your sporting hopes and dreams hanging in the balance?
When lockdown struck on Monday 23rd March that's exactly what happened to Tameside's 19-year-old Charlie Brincat (pictured below).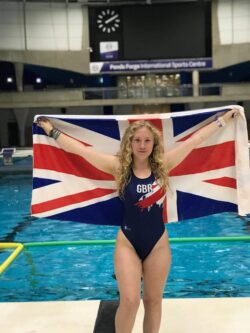 She is one of thousands of sporting professionals who were literally left in limbo overnight as sport centres and training facilities were forced to close their doors indefinitely.
While many have managed to adapt their daily training methods, that's been a little trickier for Charlie – who plays underwater hockey for Team GB U24 Ladies.
A bit like a fish out of water, Charlie, from Stalybridge, suddenly found herself high and dry and her international sporting dreams quickly ebbing away.
Previously part of the national champion teams for u16 and u19 categories, ranked 4th in the Underwater Hockey World Championships and first in the Ladies Nationals 2nd Division, Charlie was mid training for the next World Youth Championships in Turkey which have now sadly been postponed due to coronavirus.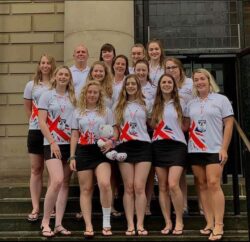 Faced with indefinite pool and gym closures, things looked a bit bleak for Charlie – who is an aspiring solicitor who was also dealt a blow when her first year studying law with criminology at the University of Salford came to an abrupt end.
But, as we've seen time and time again in recent weeks, you can achieve a lot with grit, drive and determination and as you'll find out shortly, Charlie is a swimmer not a sinker.
Before we find out more, here's a quick plunge into the world of underwater hockey.
Underwater hockey (also known as Octopush) involves two teams competing against each other to manoeuvre a weighted puck to the opposing team's goal using small sticks.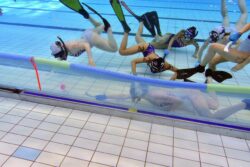 Unlike its dryland counterpart, there are 10 players on each side, six in the water at any given time, battling it out at the bottom of a swimming pool. The skill, says Charlie, is in manoeuvring around and outwitting opponents while judging when to go up for air without causing issues to the flow of play.
It's fast, furious and fun with over 100 teams across the UK.
Charlie says she decided to give it a go after spotting a poster at her former pool Active Dukinfield five years ago and in her words, 'ended up falling in love with the sport'.
Originally competing as the only girl in her age division on the national team for Denton-based Xarifa Underwater Hockey Club, she also plays for the Lancashire Ladies and Manchester teams.
She normally undergoes an intensive weekly training regime including two to three pool sessions and five or six days in the gym.
She's now focusing on retaining her place in the GB squad ahead of the world championships in Turkey in 2022.
We asked her to give us an insight into the ups and downs of her lockdown experience and share her tips and advice on dealing with the impact – plus we've thrown in a few crazy, quickfire coronavirus questions about the lighter side of coping!
So, over to you Charlie…
What were your first thoughts when you heard about the lockdown?
I took it badly as I knew it was going to affect a lot about my day-to day-life.
I'd also just received a job offer as a casual lifeguard at Active Hyde that wasn't finalised due to them closing.
What was the first thing it impacted on?
Both my gym and the swimming pools shut down so I couldn't do my usual workouts. My university also shut very early and the online learning experience wasn't great.
What has lockdown stopped you from doing?
At first the rule of only being allowed out once a day meant my training was fairly limited to indoor training which was a struggle as my mum needed to work from home in the lounge.
Sadly, the only water I've seen since lockdown has been my bathtub which isn't great for swimming! I've not been able to use the usual equipment that's at the gym either.
I tried to buy some but by the time I got to the shops, everything had sold out from running machines and weights to skipping ropes.
How have you changed your training regime?
I've been focusing a lot more on running. I have a half marathon booked for October so still training for that whether it's cancelled or not.
Also I've started doing Metafit sessions with my teammates from home via Zoom which has been entertaining. It allows someone else to lead my workout so I'm using different muscles I may not have used before.
We've been doing group workouts online and using apps such as Strava to track our runs.
What do you miss the most?
Being in the swimming pool definitely… being in any kind of water and being in the bottom of the pool. Testing yourself and playing a fast sport.
How has your lockdown experience made you feel about your sporting career and in general?
It's made me more motivated.
I thought I would have had two more World Youth Championships in the U24 category, however due to to the postponement of this to a year later due to Covid, I now only have one, so I'm determined to work hard and hopefully be selected.
Also watching the Ice Hockey World Championships on YouTube seems to have really increased my fighting spirit, motivation and competitive drive.
What are your tips and advice for good physical and mental health during lockdown?
Make sure you try to exercise every day.
It doesn't necessarily have to be exhaustive exercise, maybe simply a walk.
Shutting yourself away, staying indoors and not seeing anyone out and about can really take a toll physically on your body from sitting all day and mentally because you feel drained and like you've got nothing to do.
Don't take the media too seriously and allow it to stress your everyday life by always looking for a headline.
Also, I've taken to baking which I've been loving. Anything creative to help take your mind of things is great.
When do you think you will be able to return to training?
Hopefully next month to allow some time to get back into it before our GB camp in July, but realistically it could be a few months away.
How has it affected other teammates / sportspeople you know?
I think for some it's brought a lot of people closer together but for others it's made them more distant, especially if we can't see them at sessions and they can't use video call for whatever reason.
I think everybody is just trying to find 'their thing' as before all our 'thing' was hockey.
How has it affected your sport in general?
The next World Youth Championships in Turkey has been delayed a year, we're not sure whether our GB camp in July will run yet or not and also the pool sessions are not available so we are unable to play it at all.
What are you looking forward to most when lockdown is eased further?
Getting back into the pool and playing again!!!! 😁 😁 😁 (Hopefully really soon)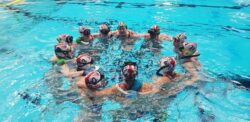 Crazy quickfire coronavirus questions:
Have you cut your own hair yet?
Nope, I have crazy, curly hair so it would be too difficult, but I've perfected the fade on my boyfriend.
What would be your Netflix recommendation?
For a binge on Netflix the series Teenwolf.
On other channels, Friday Night Dinner and film-wise definitely either Lord of the Rings or Dracula.
Longest you've queued to get into the supermarket?
About 40 mins but I don't mind if it's sunny and I can work on the tan.
Charlie is also one of our amazing Active Champions, a programme open to international sports performers who either live in Tameside or are a member of a Tameside Sports Club.
The aim of this fantastic scheme is to complement our Champions' sports-specific training through a 12-month complementary membership which gives them access to our gyms and swimming pools, fitness staff expertise, tailored fitness programmes and a nomination in the annual Pride of Tameside Sports Awards.
Through the use of our facilities we hope to enhance the ability, opportunities and achievement of the outstanding sporting talent in our local communities.
Charlie became an Active Champion on the recommendation of a fellow player and says it's been a huge boost to her training.
How has the Active Champions programme helped you so far?
Underwater Hockey can be quite an expensive sport with travelling to competitions and the equipment, so the use of the gyms and the pools has been of great help.
We have a weekly training plan for the team so it's also been a big help there.
Which centres do you train at?
Active Ashton and Active i-TRAIN in Dukinfield.
Would you recommend Active Champions to others?
Definitely, it's made training so much easier being able to go to a gym so close to me.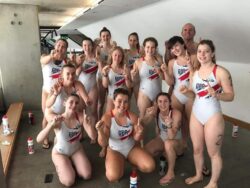 A huge thanks to Charlie for giving us a glimpse into her underwater – currently dry land – world.
On behalf of us all at Active Tameside we wish you all the best with your training and world championship prep. We'll see you again soon, hopefully when you bring that trophy back from Turkey in 2022 (no pressure!).
To everyone in the communities we serve we hope you stay safe, healthy and happy.
Don't forget we are still here helping you all to stay fit and well via our app and social media channels and look forward to welcoming you back to our centres in the near future.
The Active Tameside Team