When it comes to sporting prowess, Tameside's got it in abundance.
Active Tameside is on a mission to nurture its home grown talent and we're doing just that through our Active Champions programme.
The scheme is open to international sports performers who either live in the borough or are a member of a Tameside sports club.
Active Champion status allows these amazing athletes to use our gyms and swimming pools to enhance their sports-specific training through a 12-month complimentary membership.
We're honoured to say we've signed up a fantastic team of these young sporting heroes who are out there year-round competing at a national and international level.
Among those digging deep to put Tameside on the map across a whole range of sports is Active Champion Olivia Harrison, a 16-year-old, from Ashton, who is a member of Tameside Volleyball Club, current Under-18 Women's National Champions.
She applied to become an Active Champion to help her improve physical fitness which is essential to the sport she took up six years ago.
Olivia was part of her club's fantastic tournament win as well as being selected for England's Under-17 Girls squad last November and is a member of the North West Under-17 Girls team, who were runners-up in the Inter-Regional Championships.
Maintaining her place on the team – national and regional squad positions – means committing many hours of training to ensure she's in tip top condition.
"We train two to three times a week, for at least two hours a time," says Olivia.
"Our warm-ups involve some specific stretches for the muscles and areas of the body required in volleyball, such as our shoulders and back muscles, then a rally with a partner putting the key techniques from previous drills into practice.
"We also discuss the role of each position on the court in different areas of play."
Her on-court prowess and skills have ensured she's a strong contender for national and regional team roles and have presented her with some fantastic opportunities and experiences.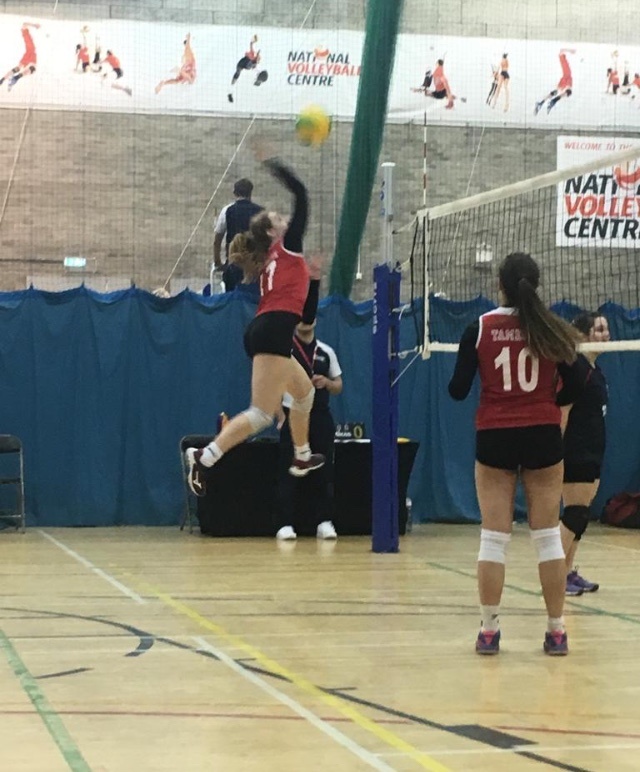 She said: "Our most recent competition was the Under-18 Women's National Championships and in the final at the end of April 2019 we won and became the current national champions.
"I am also a member of the Northwest Under-17 Girls team and we were runners-up in the Inter-Regional Championships, despite having a couple of players in the team injured and consequently others playing in different positions than normal.
"In November 2018, I was also selected for England's Under-17 Girls squad, which was a huge achievement, and has taught me lots of new techniques and training aspects that I wasn't aware of at club level."
As any athlete knows, obstacles and setbacks are par for the course.
Luckily Olivia has the drive, determination and right mindset to overcome and learn from them, a quality which is bound to help her on the road to achieving further success.
Speaking of a recent disappointment she told us: "I was not selected for the England team for the international competition in June, but I have been given feedback from my coach on what areas I need to improve and this has made my determination to be selected next time even stronger.
"The coaches focus massively on physical conditioning, therefore I am now able to understand where I could have setbacks, and this is why I am joining Active Ashton, in order to be able to improve my physical weaknesses."
So what does the future hold for this ambitious volleyball ace who is seizing every opportunity to be the best she can be?
"In the near future, my main goal is to improve as much as possible physically and tactically, and then hopefully be selected for the next England team," added Olivia.
"In terms of the long-term future, I am just going to keep working hard and see what opportunities might arrive."
Olivia lines up alongside our other Active Champions whose commitment and passion for their chosen sport are an inspiration to us all.
Good luck for the future Olivia and we look forward to supporting you to achieve your volleyball goals!
To find out more about some of our other Active Champions and to apply click here.