From Darkness to a New Light: The Inspirational Journey of Steve at Active Tameside Cycle Circuit
Some stories inspire us to rise above our circumstances, to push the boundaries of what we believe to be possible, and to never give up on our dreams.
One such tale is that of 53-year-old Steve who has found a new lease of life at Active Tameside Cycle Circuit.
Despite the odds being stacked against him, his journey highlights the power of resilience and the pivotal role that supportive communities play in the journey towards self-discovery and empowerment.
---
A Loss That Couldn't Dim the Light Within
Steve's story, however, is not without its trials and tribulations, as he grappled with the harsh reality of losing his sight.
Having gone through several operations in a desperate attempt to save his sight, it was an unfortunate consequence of the COVID-19 pandemic which added a new layer of struggle to his journey.
Appointment scheduling became a formidable task, and sadly, Steve's sight couldn't be salvaged.
This sudden and challenging transition into a world without sight could easily have been a reason for Steve to give up on his passions.
But thanks to his incredible determination and motivation, Steve knew that giving up was not an option and he chose to see his situation as another obstacle to overcome rather than be defeated.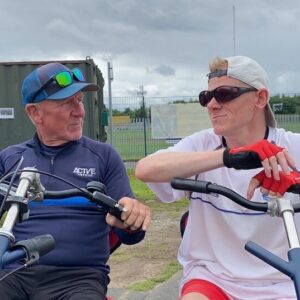 ---
The Role of Active Tameside Cycle Circuit and Its Staff
During his journey, Steve found solace in an unexpected place – Active Tameside Cycle Circuit.
This haven of physical activity and great sense of community became a welcome sanctuary for Steve and with the help of the dedicated team headed by Gary and other Active Tameside staff, Steve discovered his loss of sight didn't have to mean losing his love of cycling.
The Active Tameside Cycle Circuit team has worked tirelessly to create an environment that is not just safe and nurturing, but also encouraging.
They truly believed in Steve's potential and were determined to help him regain his passion for cycling.
Their commitment to inclusivity ensured that Steve could continue to participate in an activity he loves so dearly.
---
The Triumph of Determination Over Adversity
Not only is Steve a beacon of hope for those who face similar challenges, he is an inspiration to all having conquered what would seem to be insurmountable and life-changing obstacles.
He is testament to human resilience and an indomitable spirit as he navigates the track with confidence and sheer joy.
The rhythm of his pedalling, the sound of the wheels gliding over the track and the encouraging cheers from the cycle circuit team are his guiding light and compass. They have also become a guiding light way beyond the track itself, giving him the direction and inspiration to live his life to the full.
Steve's story is a powerful reminder that it is not our circumstances that define us, but rather how we choose to deal with them.
Despite the darkness that his sight loss thrust upon him, Steve chose to find a new light and it gave him a new purpose.
Here at Active Tameside Cycle Circuit, we celebrate Steve's undying spirit and his refusal to let adversity diminish his passion for life.
We believe his story will continue to inspire many others who face similar battles, reminding them that the strength to overcome lies within us all. After all, it is in our struggles that we find our greatest strengths.
Steve's story demonstrates that sometimes, the longest journeys lead to the most wonderful, undiscovered destinations.
So, here's to Steve, an inspiration, a symbol of resilience, a testament to the power of the human spirit. His story isn't just about cycling; it's about overcoming, persevering, and daring to live life to its fullest, even when the ride gets tough.
Steve, we salute you!